Liesbeth Tryzelaar, MD, M.Sc.
Hospice and Palliative Care Physician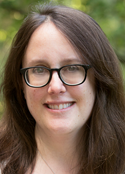 Dr. Liesbeth Tryzelaar joined Care Dimensions in 2021 as a staff physician based in the Waltham office serving patients in their homes in our Greater Boston service area and at the Care Dimensions Hospice House in Lincoln. She has been working with Care Dimensions since February 2020 as a per diem physician. In addition to leading an interdisciplinary care team and overseeing the medical care of hospice patients, she will teach physicians as part of the Harvard Palliative Care Medicine Fellowship Program while they are on rotation at Care Dimensions as well as medical school students from area colleges.
Fellowship trained in palliative care medicine at Northwestern Memorial Hospital in Chicago and geriatric medicine at Baystate Medical Center in Springfield, Mass., Dr. Tryzelaar completed her internship and residency in internal medicine at Boston Medical Center. She is a graduate of Tufts University School of Medicine and holds a Master of Science degree in human osteology and funerary archaeology from University of Sheffield, West Yorkshire, UK. Prior to joining Care Dimensions, she was a hospitalist physician at Pen Bay Medical Center in Rockport, Maine; Spaulding Hospital Cambridge; and, most recently, at Emerson Hospital in Concord, Mass.