Emma Jones, MD
Hospice and Palliative Care Physician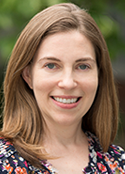 Dr. Emma Jones joined Care Dimensions in July of 2021 as a hospice and palliative care physician. She is focused on managing the care of adult and pediatric hospice patients and providing palliative care consultations for pain management and quality of life issues for patients with advanced illness. She leads the pediatric interdisciplinary team and a home-care team serving Greater Boston.
Dr. Jones has been serving since 2016 as Care Dimensions' pediatric medical director providing medical care planning for pediatric patients enrolled on hospice and collaborating with the interdisciplinary team to design pediatric palliative care services. She also worked as a senior physician in pediatric palliative care at Dana-Farber Cancer Institute and Boston Children's Hospital on its inpatient palliative care consult service.
Board certified in hospice and palliative care, pediatrics, clinical pharmacology and hematology-oncology, Dr. Jones received her medical degree from the Lousiana State University Health Science Center. She completed a fellowship in pediatric hematology-oncology and clinical pharmacology at Baylor College of Medicine and Texas Children's Hospital, as well as a fellowship in hospice and palliatve care at Harvard Medical School's Center for Palliative Care.