Anna Chon, MD, HMDC
Assistant Medical Director of Palliative Care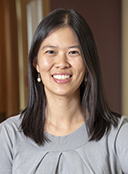 Dr. Chon is the associate medical director of palliative care, providing leadership on projects and management of the clinical program and development. She joined Care Dimensions in 2018 as a full-time hospice and palliative care physician working with an interdisciplinary team to manage the care of hospice patients who reside at home in the north suburban Boston area. She also performs palliative care consultations at Beverly Hospital.
Board certified in hospice and palliative care medicine, family medicine and as a hospice medical director, Dr. Chon received her medical degree from the Alpert Medical School of Brown University in Providence, RI. She completed her residency in family medicine at UMass Memorial Medical Center in Worcester, MA. She then did a one-year fellowship in hospice and palliative medicine at Stroger Hospital of Cook County and Rush University Medical Center in Chicago.