James Peterson, MD, HMDC
Hospice and Palliative Care Physician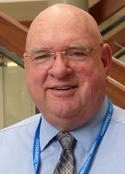 Dr. Peterson joined Care Dimensions in 2019 as a full-time hospice and palliative care physician. He works with an interdisciplinary team and manages the care of hospice patients in the Greater Boston/MetroWest area and at the Care Dimensions Hospice House in Lincoln.
Prior to joining Care Dimensions, he worked as a physician in several settings, including as a palliative care physician in a medical home organization, as a hospice medical director, and as a nursing home and primary care family physician in medical practices in Massachusetts and southern New Hampshire.
Dr. Peterson is a graduate of the University of Massachusetts Medical School. He is board certified in family medicine and as a hospice medical director.