Johnson Wu, DO
Hospice and Palliative Care Physician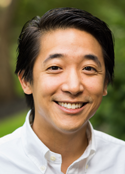 Dr. Wu joined Care Dimensions in 2017 as a full-time hospice and palliative care physician. He works with an interdisciplinary team and manages the care of hospice patients in the Greater Boston and MetroWest areas. He'll also see patients at the new Care Dimensions Hospice House on the Waltham-Lincoln line.
Dr. Wu received his doctor of osteopathy degree from A.T. Still University School of Osteopathic Medicine in Mesa, Arizona. He completed his residency in family medicine at University Medical Center in Austin, Texas, which included work with Seton Palliative Care & Hospice Austin. He then did a one-year fellowship in hospice and palliative medicine at the Cleveland Clinic.
Dr. Wu is board certified in family medicine and is pursuing a master's degree in bioethics from Harvard University, which complements his interest in how philosophy, existentialism, and metaphysics can affect end-of-life care.