Judy Korik Weinstock, MD
Hospice and Palliative Care Physician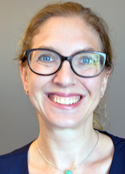 Dr. Korik Weinstock joined Care Dimensions in 2019 as a Hospice and Palliative Care physician. In her role, she will provide palliative care consultations at Emerson Hospital in Concord, MA as well as work with an interdisciplinary team to provide hospice care to patients admitted to the Care Dimensions Hospice House in Lincoln.
Dr. Korik Weinstock is a graduate of Stonybrook University School of Medicine in NY. She is board certified in family medicine and completed her residency at Boston University Medical Center and now specializes in Hospice and Palliative Care after finishing her fellowship training at Beth Israel Deaconess Medical Center (BIDMC), Boston.
Prior to completing her fellowship, she has worked as a hospitalist and primary care physician in New York and the Greater Boston Area. She has served on several advisory boards and workgroups focused on hospice and palliative care and chronic-pain management.