Kristen Schaefer, MD, HMDC, FAAHPM
Medical Director, Greater Boston
Director of Fellow and Medical Resident Education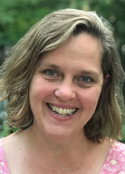 Based in our Waltham office, Dr. Kristen Schaefer is the medical director, Greater Boston, where she oversees physicians and cares for patients in our Greater Boston service area and at the Care Dimensions Hospice House in Lincoln. She oversees the education and training of medical students, residents and fellows on rotation at Care Dimensions, and supports outreach to professional health care organizations through educational activities and relationship building.
Prior to joining Care Dimensions in 2020, Dr. Schaefer was a Senior Physician in the Department of Psychosocial Oncology and Palliative Care at the Dana-Farber Cancer Institute (DFCI) and a palliative care attending physician at the Brigham and Women's Hospital (BWH) in Boston since 2008. She served as Director of Medical Student Education for the DFCI Division of Adult Palliative Care from 2010 to 2020, and as the inaugural Medical Director of the BWH HeartPal Program from 2018 to 2020. While working as a consultant and attending physician on the DFCI/BWH intensive palliative care unit, she collaborated often with Care Dimensions nurses, physicians and clinical liaisons. Prior to specializing in Hospice and Palliative Medicine, Dr. Schaefer served as a primary care physician in San Francisco, the Navajo Nation and Washington, DC.
Dr. Schaefer is a graduate of Harvard Medical School (HMS) and has served as HMS faculty in the Department of Medicine at BWH since 2008. She has an ongoing role as co-director of the HMS Aging Patient and End of Life Care Curricular Theme and as an HMS representative to the statewide medical school collaborative within the Massachusetts Coalition for Serious Illness Care. She is board certified as a hospice medical director and is a fellow of the American Academy of Hospice and Palliative Medicine.