Larissa Lucas, MD, FACP, HMDC
Hospice and Palliative Care Physician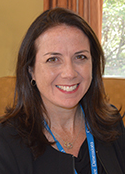 Dr. Lucas joined Care Dimensions in 2014, managing the care of hospice patients and providing palliative care consultations for patients with advanced illness focusing on pain management and quality of life issues.
Prior to joining the organization, she managed a large team of editors building an evidence-based educational resource for physicians called DynaMed.
Dr. Lucas is board certified in internal medicine and as a hospice medical director, and is a fellow of the American College of Physicians. She is a graduate of the University of Massachusetts Medical School and is an instructor in internal medicine at Harvard Medical School.