Nancy Otovic, MD, MPH, HMDC
Hospice and Palliative Care Physician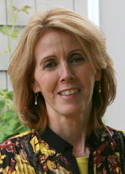 Dr. Otovic joined Care Dimensions in 2010, bringing more than 23 years of clinical experience acquired while practicing family medicine on the North Shore. Prior to working in private practice, Dr. Otovic was an urgent care physician at Beverly Hospital.
She is board certified in family medicine and as a hospice medical director. She received her medical degree from St. George's University in Grenada, holds a master's degree in public health from Tufts University and is currently working toward a master's degree in medical education. Dr. Otovic is an instructor for the Harvard Palliative Care Medicine Fellowship Program.