Ronald Rosen, MD, CMD
Hospice and Palliative Care Physician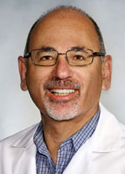 Dr. Rosen rejoined Care Dimensions in 2012. With more than 30 years of medical experience, Dr. Rosen provides hospice and palliative care to patients and is an expert in the special needs of patients residing in nursing homes.
Board certified in hospice and palliative medicine, geriatrics and family medicine, Dr. Rosen received his medical degree from the State University of New York and completed a family medicine residency at Franklin Square Hospital in Baltimore, Maryland.