Daniel O'Neil, MBA
Vice President, Chief Information Officer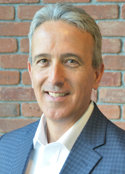 As Care Dimensions' first vice president and chief information officer, Dan O'Neil leads the organization's information technology strategy, innovation model, and ongoing operations. He is responsible for aligning technology, process & project management, and analytics to support the operational and strategic needs of the organization as it continues to grow and evolve. O'Neil has more than 25 years of information technology leadership in healthcare organizations.
Before joining Care Dimensions, he was most recently the vice president of Technology Transformation Services at Steward Health Care, and had been the vice president of ambulatory information systems for the organization. He was previously a senior vice president and chief information officer at Quincy Medical Center, and the vice president of Information Services at Caritas Christi Health Care. O'Neil has a Bachelor of Science degree from the School of Engineering at Tufts University, a Master's degree in Health Care Administration from Framingham State University, and an MBA from Boston College. He is a board member on the New England Healthcare Exchange Network and was an advisory member of the Massachusetts eHealth Institute's EMR program.