Jean Graham
Senior Director of Marketing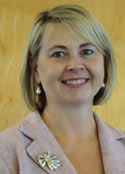 Jean Graham joined Care Dimensions in 2012 as senior director of marketing.  In this role, she oversees public relations, branding, Internet, internal communications, advertising and marketing initiatives.
Graham has 20 years of experience in corporate communications, public relations, and marketing and has worked in business publishing, environmental engineering, high tech, financial services, healthcare technology and hospital services. Prior to joining Care Dimensions, she served as the marketing and media relations manager for North Shore Medical Center.
Graham graduated with a bachelor's degree in communications from Boston College. She is the chair of the Board of Directors of the Woburn Public Media Center, and she previously served on Boston College's Alumni Association Board of Directors.