Judy Cranney, RN, MS, CHPCA, NEA-BC
Vice President & Chief Operating Officer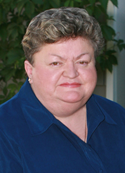 As vice president and chief operating officer, Judy Cranney ensures the effective and efficient use of resources in carrying out our organization's mission. She is responsible for the day-to-day administration of all patient, family, and community care programming for Care Dimensions. Cranney is also responsible for clinical services in both home and inpatient settings, including the Kaplan Family Hospice House, and new program development.
Cranney has over 20 years of experience in healthcare management in acute, community, long-term care, and hospice settings. Prior to joining Care Dimensions, she held the position of director of health services at the Massachusetts Executive Office of Elder Affairs, serving as clinical advisor to the Secretary of Elder Affairs regarding quality and cost of care issues affecting health services for elder clients and their caregivers.
Cranney received a bachelor's degree in human services management and a master's degree in health care management from Lesley University. She also received a registered nurse diploma from the Salem Hospital School of Nursing. She holds certification in hospice and palliative care nursing; hospice and palliative care administration; and nursing executive, advanced. Cranney is currently a member of the Board of Directors of the Hospice and Palliative Care Federation of Massachusetts and is a member of the Area Agency on Aging Advisory Committee, the North Shore Community College LPN Advisory Committee, and the Hospice and Palliative Care Nurses Association. She also served on the Massachusetts Commission on End of Life Care.