Stephanie Patel, MD, FAAHPM, HMDC
Vice President & Chief Medical Officer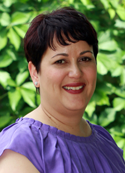 Dr. Stephanie Patel has been the chief medical officer at Care Dimensions since 2006, directing the medical component of all clinical programs. Dr. Patel also participates in the planning and implementation of new clinical programs to meet identified or emerging needs and ensure that Care Dimensions remains a leader in end-of-life care. She is also active in our outreach and educational activities and serves as a liaison between Care Dimensions and community physicians, hospitals, and long-term care providers to develop and expand the number of patients and families we serve.
Board certified in hospice and palliative care medicine, family medicine and as a hospice medical director, Dr. Patel also is a fellow of the American Academy of Hospice and Palliative Medicine. She previously served as a hospice medical director and palliative care physician in the Fairview Health System in Minneapolis. She was an integral part of a consultation service that was designated as a Palliative Care Leadership Center by the Center to Advance Palliative Care and the Robert Wood Johnson Foundation.
Prior to completing a hospice and palliative care fellowship at the Good Samaritan Hospital/VA Medical Center in Phoenix, Arizona, Dr. Patel worked in private practice. She completed her family practice residency at Montgomery Hospital in Norristown, Pennsylvania. Dr. Patel is a graduate of Temple University School of Medicine and holds a bachelor's degree from the University of California at Santa Barbara.
Dr. Patel is a member of the medical staff of Lahey Beverly Hospital, North Shore Medical Center, and the Cambridge Health Alliance hospitals. She lectures locally and nationally on the topic of hospice and palliative care, and has spoken at the annual meeting of the American Academy of Hospice and Palliative Medicine. Dr. Patel also teaches physicians as part of the Harvard Palliative Care Medicine Fellowship Program.