News Releases
November 10, 2020

Care Dimensions Director Mary Crowe is Certified Dementia Practitioner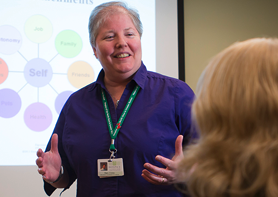 The National Council of Certified Dementia Practitioners has credentialed Mary Crowe, LICSW, ACHP-SW, C.D.S. as a Certified Dementia Practitioner. She has served as the Director of Professional and Community Education at Care Dimensions in Danvers since 2006, leading educational outreach by coordinating and delivering hundreds of programs each year on topics surrounding advanced illness and end of life for healthcare professionals, families, and community groups. In 2019 alone, she provided 500 programs and educated nearly 7,000 people in diverse settings across Care Dimensions' service area.
In 2019 SeniorCare Inc. presented Crowe with its 2019 Board of Directors Community Partners Special Recognition Award for her work as an educator to caregivers and professional practitioners throughout the North Shore. SeniorCare Inc. is a nonprofit organization that provides a one-stop portal for information and services to elders and adults with disabilities on Massachusetts' North Shore.

Care Dimensions Hospice House Video Tour
The Care Dimensions Hospice House, located in Lincoln on the Waltham town line, is a gracious and private home-like setting for patients who need hospital-level care for complex pain and symptom management. To learn more, call our Referral Center at 888-287-1255.