News Releases
November 3, 2017

Care Dimensions Recognizes Locals for their Commitment to Veterans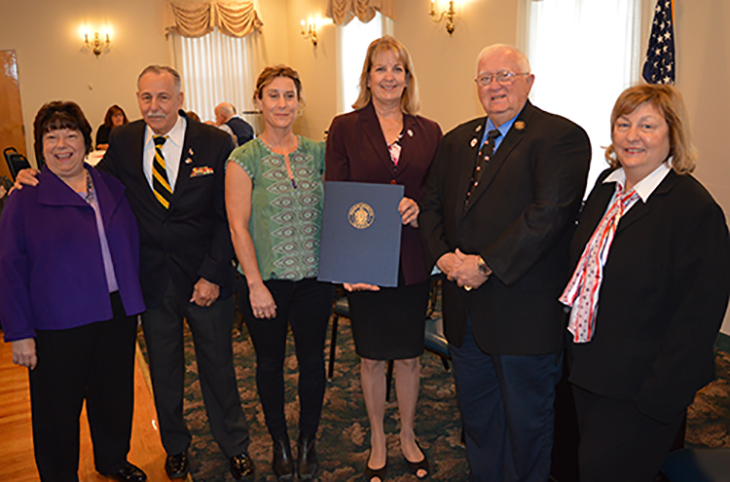 (l-r): President of Care Dimensions Patricia Ahern, John F. Sacherski of Lynn, Whitney Willman of Newburyport, State Senator Joan Lovely, Dick & Christine Moody of Danvers.

DANVERS, Mass.—On Thursday, November 2, Care Dimensions honored individuals from throughout the North Shore at their We Honor Veterans Awards breakfast and presentation held at the Polish Club in Danvers. Over 120 people turned out to congratulate award recipients Harold Goldstein of Methuen; Dick & Christine Moody of Danvers; John F. Sacherski of Lynn, MA and Whitney Willman of Newburyport.

Honorable mentions were also handed out to several individuals from the North Shore and Merrimack Valley including Harvey Calichman of Salem, Lou Cimaglia of Wilmington, Dave Dragan of Marblehead, Tom Duggan of Lawrence, Normand Giguere of Lowell, Jim Graffum of Ipswich, Peter Gwinn of Wenham, Connie Hellwig and Kevin Hunt of Newburyport, Donald Jarvis of Newbury, Peg LaScola of Wilmington, Roger Leger of Salem, Susan Magner of North Reading, Vinnie Simeone of Woburn and David Soucy of Dracut.
These individuals were nominated by members of the community for their commitment to improving the lives of veterans. As a Level Four Partner of the We Honor Veterans program, Care Dimensions has joined together with the U.S. Department of the Veterans' Affairs and the National Hospice and Palliative Care Organization to empower hospice professionals to meet the unique needs of dying Veterans. The program teaches respectful inquiry, compassionate listening and grateful acknowledgement – to comfort patients with a history of military service and possibly physical or psychological trauma. To learn more about Care Dimensions' We Honor Veterans Program and the Veteran to Veteran Volunteer program please visit www.CareDimensions.org/veterans.
Care Dimensions Employees Celebrate Circle of Life Award

In celebration of winning the prestigious national 2015 Circle of Life award honoring innovation in hospice and palliative care, the staff of Care Dimensions took to song "performing" (with vocal assistance from the Mormon Tabernacle Choir) the iconic Circle of Life song. Enjoy!
To view photos from our Circle of Life Award celebration, click here.