News Releases
November 12, 2021

Care Dimensions appoints Patrice DePasquale, LICSW, as Bereavement Manager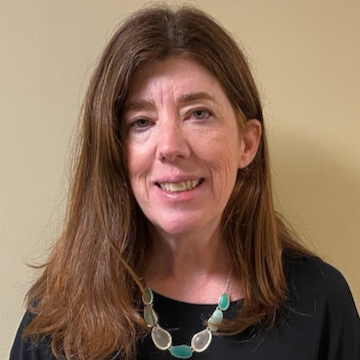 Care Dimensions, the largest hospice and palliative care organization in Massachusetts, has appointed Patrice DePasquale, LICSW, to bereavement manager supporting the North Shore and Greater Boston. In this role, she oversees all staff and grief support services provided at the Bertolon Center for Grief & Healing in Danvers, at our Greater Boston office in Waltham and in community locations.
"I'm so grateful to be working at Care Dimensions with this compassionate and dedicated group of professionals," says DePasquale, who has lived on the North Shore since 2006. "It's very meaningful to support our patients and families during this most challenging time and witness the significant impact of our grief support services in helping bereaved loved ones cope."
DePasquale has more than 25 years of experience providing grief support and counseling and previously worked at Care Dimensions for five years as a bereavement counselor. She received her Master of Social Work from Catholic University of America in Washington, D.C., and a bachelor's in English from Providence College in Rhode Island.
About Care Dimensions
Care Dimensions is the largest hospice and palliative care provider to adults and children in Massachusetts. As a nonprofit, community-based leader in advanced illness care, Care Dimensions provides comprehensive hospice, palliative care, grief support in more than 100 communities in Massachusetts. Founded in 1978 as Hospice of the North Shore, Care Dimensions cares for patients wherever they live – in their homes, in skilled nursing facilities and assisted living communities, in hospitals, or at our two inpatient hospice facilities, the Care Dimensions Hospice House in Lincoln and the Kaplan Family Hospice House in Danvers. Additionally, Care Dimensions HomeMD program provides in-home primary care to patients over age 65 in select communities on the North Shore and Greater Boston who have difficulty leaving home. The Care Dimensions Learning Institute educates more than 7,000 health care professionals and community members each year on advanced illness and end-of-life topics. Please visit www.CareDimensions.org to learn more about Care Dimensions.

Care Dimensions Hospice House Video Tour
The Care Dimensions Hospice House, located in Lincoln on the Waltham town line, is a gracious and private home-like setting for patients who need hospital-level care for complex pain and symptom management. To learn more, call our Referral Center at 888-287-1255.