News Releases
January 10, 2020

Hospice House in Lincoln Received Four Awards for Excellence in Architecture, Design and Construction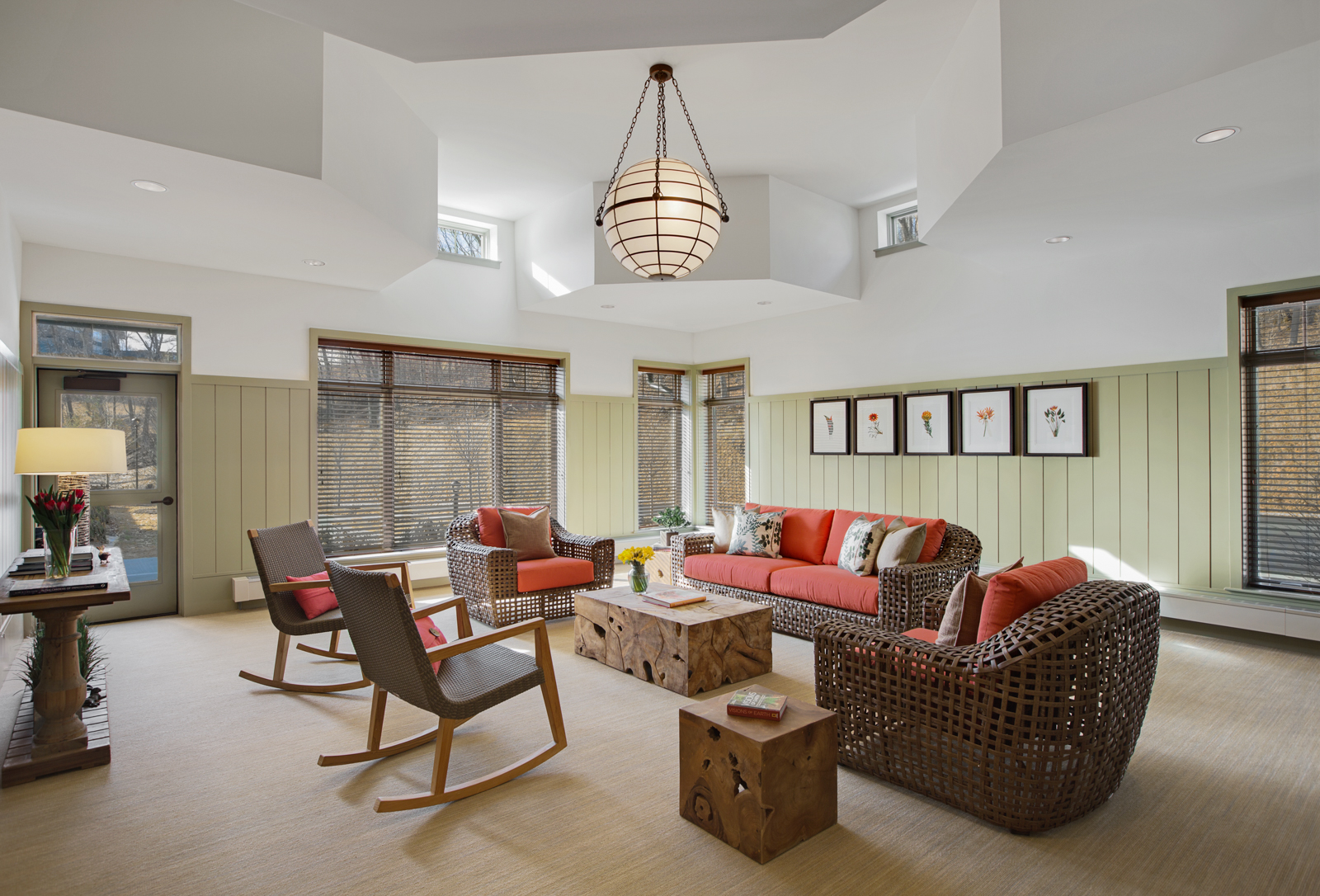 Lincoln, MA--Care Dimensions, the largest provider of hospice and palliative care in Massachusetts, is pleased to announce that its newest inpatient hospice house, the Care Dimensions Hospice House, has been honored recently with four awards for excellence in architecture, interior design and construction.
Opened in April 2018, the 18-bed Care Dimensions Hospice House is located in Lincoln, Massachusetts, on the Waltham town line. The 27,600 square foot inpatient hospice house offers hospital-level care for hospice patients requiring 24/7 medical care for acute pain and symptom management. An interdisciplinary team provided medical, emotional and spiritual care to 460 patients and their families in the hospice house's first year of operation.
At its 2019 Designer Awards, the International Furnishings & Design Association, New England Chapter honored Beverly-based SV Design in the Commercial Healthcare category for its work on the interior design of the hospice house. SV Design noted that its interior design visions for the hospice house was a relaxed residence that could accommodate a range of needs, with a focus on the emotional and practical needs of its patients and their families, that echoed the natural surroundings that are integral to the facility's environmental mood and aesthetic.
In its 27th annual Excellence in Construction Awards, the Massachusetts Chapter of Associated Builders and Contractors (ABC) recognized Windover Construction of Beverly, Mass. Windover received the ABC's Merit Award, which recognizes overall excellence in project execution, craftsmanship, safety, innovative elements and challenges, and client satisfaction.
In its 2019 Design for Aging Review, The American Institute of Architects (AIA) cited EGA, a Newburyport-based architectural design and planning firm, for the Care Dimensions Hospice House design that successfully achieved a balance between a home-like environment and the highest quality of clinical elements.
In its sixth annual Senior Housing News (SHN) Architecture & Design Awards, SHN, an Aging Media Network Publication, awarded second place to The Care Dimensions Hospice House in its 2019 Hospice category. More than 100 residential senior communities across the country and globe submitted new construction and renovation projects for commendation, vying for top honors across SHN's nine individual award categories.
About Care Dimensions
Care Dimensions is the largest hospice and palliative care provider to adults and children in Massachusetts. As a non-profit, community-based leader in advanced illness care, Care Dimensions provides comprehensive hospice, palliative care, grief support in more than 95 communities in Eastern Massachusetts. Care Dimensions was founded in 1978 as Hospice of the North Shore, and cares for patients wherever they live – in their homes, in skilled nursing facilities and assisted living communities, in hospitals, or at our two inpatient hospice facilities (the Care Dimension Hospice House in Lincoln, and the Kaplan Family Hospice House in Danvers). Additionally, Care Dimensions HomeMD program provides in-home primary care to patients over age 65 in select communities on the North Shore and Greater Boston who have difficulty leaving home. The Care Dimensions Learning Institute educates more than 7000 healthcare professionals and community members each year on advanced illness and end-of-life topics. To learn more about Care Dimensions, please visit www.CareDimensions.org.

Care Dimensions Hospice House Video Tour
The Care Dimensions Hospice House, located in Lincoln on the Waltham town line, is a gracious and private home-like setting for patients who need hospital-level care for complex pain and symptom management. To learn more, call our Referral Center at 888-287-1255.