News Releases
December 19, 2017

Hospice Nurses Recognized with Annual Schroot Award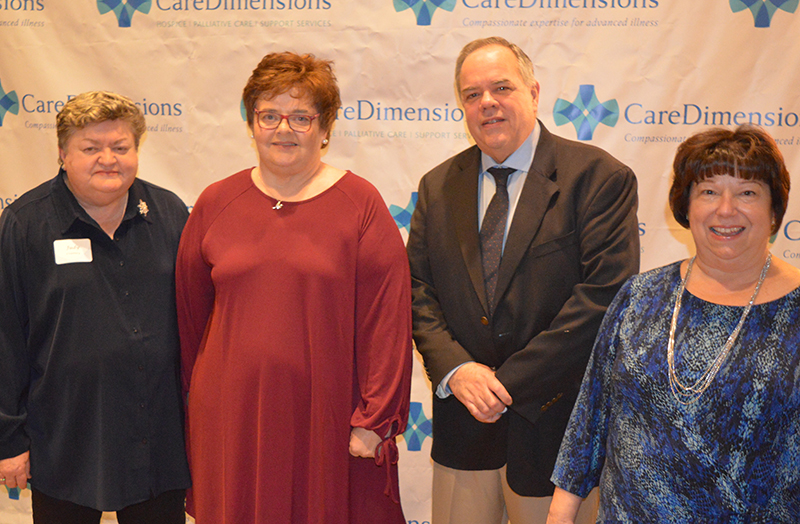 Judy Cranney, COO of Care Dimensions (far left) and Patricia Ahern, CEO of Care Dimensions (far right) with the organization's 2017 Kathleen Schroot
Memorial award recipients Patricia Condon, RN and John McDonald, RN.
DANVERS, Mass.—Care Dimensions, Massachusetts' premier nonprofit hospice organization, recently recognized several of its employees at their annual Staff Appreciation and Awards Dinner held at the Burlington Marriott. Salem resident and Care Dimensions Clinical Nurse Manager Patricia Condon and Clinton resident and Care Dimensions staff nurse John McDonald were awarded The Kathleen Schroot Memorial Award, given in memory of Kathleen Schroot, the first registered nurse hired at Hospice of the North Shore.

Care Dimensions is the largest hospice provider to adults and children with advanced illness in Massachusetts. As a non-profit, community-based leader in advanced illness care, Care Dimensions provides comprehensive hospice, palliative care, grief support and teaching programs in more than 90 communities in Eastern Massachusetts and employs close to 500 staff. Founded in 1978 as Hospice of the North Shore, Care Dimensions cares for patients – in their homes, in long-term care and assisted living communities, in hospitals and at their Kaplan Family Hospice House, the first licensed inpatient hospice house in Massachusetts. A second hospice house situated on the Lincoln/Waltham line will open in winter of 2018. The Care Dimensions Hospice House will feature 18 private patient suites, including two state-of-the-art pediatric suites. The new hospice House is not a hospital, nursing home or rehabilitation facility, but a home-like setting where hospice physicians, nurses and support staff provide hospital-level 24-hour care, and where visiting family members can spend quality time, including overnight stays, with their loved one. For more information, please visit www.CareDimensions.org.
Care Dimensions Hospice House Video Tour
The Care Dimensions Hospice House, located in Lincoln on the Waltham town line, is a gracious and private home-like setting for patients who need hospital-level care for complex pain and symptom management. To learn more, call our Referral Center at 888-287-1255.