News Releases
March 9, 2018

North Andover Resident Recognized during Child Life Month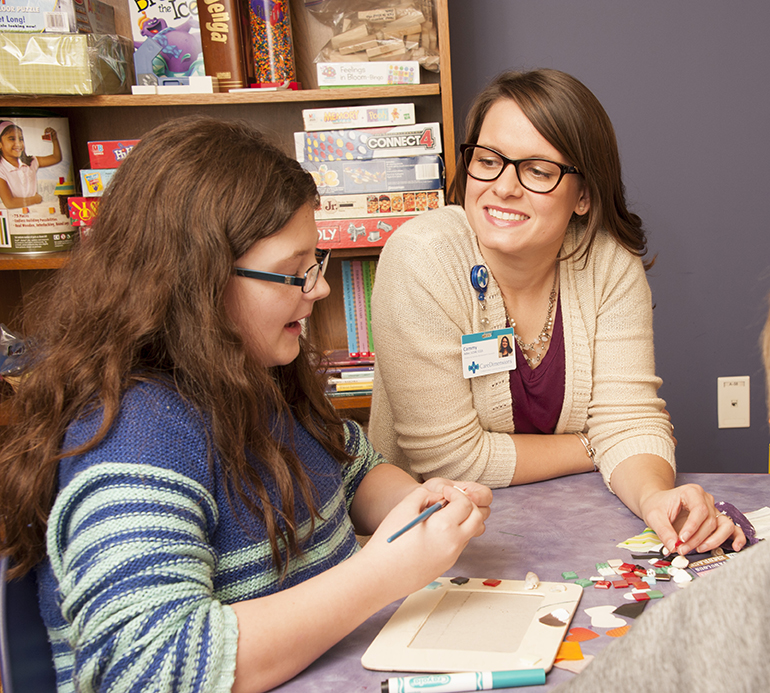 March 8, 2018 – This March, Care Dimensions joins with The Association of Child Life Professionals to celebrate Child Life Month and to recognize the efforts of North Andover resident Cammy Adler-Roth, LCSW, CCLS, who serves as the Children's Program Manager for Care Dimensions, the state's largest provider of hospice services. Adler-Roth received her Master of Science in Social Work from the University of Texas at Austin and her Bachelor of Science in Child Life and Human Development from Wheelock College. She has worked and interned in a variety of settings including: The SPARK Center at Boston Medical Center, Boston Children's Hospital and the Red Cross War Memorial Children's Hospital in Cape Town, South Africa, to name a few.
What are child life specialists?
Child life specialists are certified professionals trained at the master's level in child development, family studies and psychosocial support. At Care Dimensions they provide a variety of supportive services to anyone in the community, regardless of hospice involvement. Services can include:

Educating families on developmental understanding of death and dying
Meeting with children in their homes, schools, or extended day programs to help them process their feelings about end of life
Providing opportunities for children to process grief reactions through therapeutic and expressive art activities
Preparing children to visit their loved one in the hospital, hospice house, or other inpatient setting
Preparing children for funeral or memorial services
Providing community outreach through free support groups, events, and school support
Facilitating activities to maintain connections with loved ones
In addition to working with individual children and families Adler-Roth runs bereavement support groups for children and teens throughout the school year and coordinates Care Dimensions' annual Camp Stepping Stones, a day camp experience for families who have experienced the death of someone close to them, which takes place on July 14, as well as a Camp Family Kick-Off Event scheduled for June 13. For more information on Child Life Services or to register for upcoming events or support groups, please call 855-774-5100 or email ChildLife@CareDimensions.org.
About Care Dimensions
Making a Difference in Countless Lives for 40 years
Care Dimensions is the largest hospice and palliative care provider to adults and children in Massachusetts. As a non-profit, community-based leader in advanced illness care, Care Dimensions provides comprehensive hospice, palliative care, grief support and teaching programs in more than 90 communities in Eastern Massachusetts. Celebrating 40 years of service, Care Dimensions was founded in 1978 as Hospice of the North Shore, and cares for patients wherever they live – in their homes, in skilled nursing facilities and assisted living communities, in hospitals, or at our two inpatient hospice facilities (the new Care Dimension Hospice House in Lincoln, and the Kaplan Family Hospice House in Danvers). To learn more about Care Dimensions or to view a tour of our hospice houses, please visit www.CareDimensions.org.
Care Dimensions Hospice House Video Tour
The Care Dimensions Hospice House, located in Lincoln on the Waltham town line, is a gracious and private home-like setting for patients who need hospital-level care for complex pain and symptom management. To learn more, call our Referral Center at 888-287-1255.