News Releases
January 19, 2018

Veteran Takes Virtual Tour of WWII Memorial in Washington, D.C.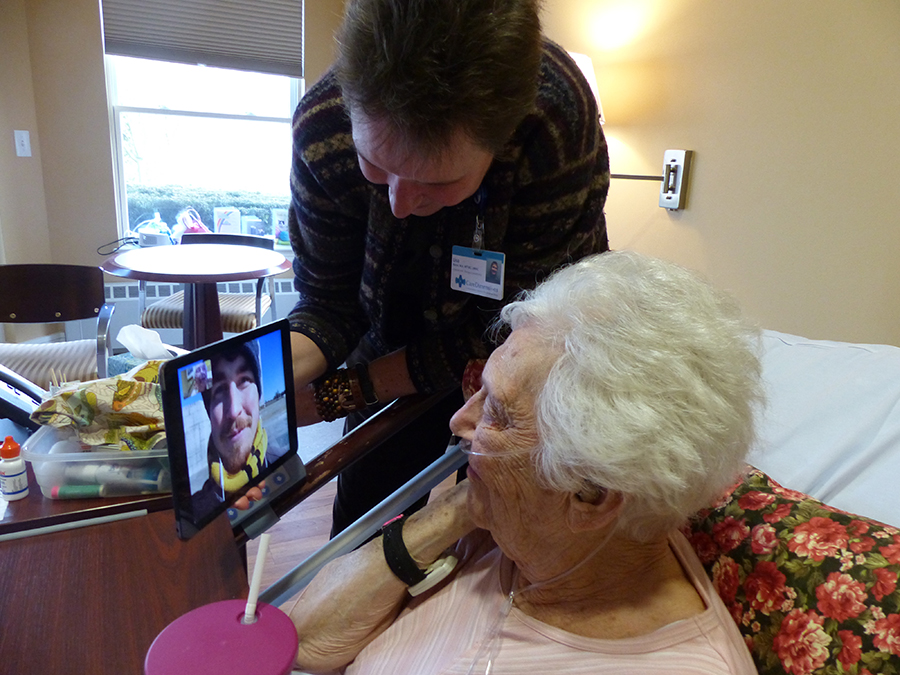 Creative Arts Therapist, Li Kynvi holds an iPad so that hospice patient Shirley C. can get a virtual tour of the World War II Memorial in Washington, D.C.
During weekly visits to the Kaplan House with 97-year old Shirley C., a patient with end-stage COPD who is also legally blind, Li Kynvi learned a lot about Shirley's life and interests. Shirley is proud of her World War II military service as a physical therapist in the Women's Army Medical Corp and that she assisted in opening tent hospitals in England and France. She also regretted not having visited the WWII Memorial on the National Mall in Washington, D.C. "I've always felt that I've been missing out," Shirley told Li. "I know so many veterans who have made the trip but I wasn't able to get there when I was well," she said.

Recognizing that Shirley would benefit from a visit to the WWII Memorial Li began to formulate a plan to bring the Memorial to Shirley. Ever resourceful, Li reached out to her professional network and received nine offers to take Shirley on a virtual tour via Skype or Facetime. The eventual tour guide, Nate, was a fellow music therapist who works at Walter Reed National Military Medical Center in Bethesda, Maryland.

Shirley was thrilled with the possibility of a virtual tour. On a brisk, sunny afternoon, Nate and Shirley said their hello's using an ipad, with Nate in D.C. and Shirley in her bed at the Kaplan House. Nate began the tour by thanking Shirley for her service. As Li held the ipad, Shirley leaned in to the screen to get a better view of the memorial's 56 pillars and triumphal arches surrounded by a plaza and fountain. As Nate entered the memorial he was able to show Shirley depictions of the European theatre, England and the Pacific. He read each of the quotes displayed along the way.

Shirley watched and listened intently as Nate took her on the virtual tour. She had few questions but smiled and nodded often. She was able to see and identify items during the tour, many of which brought a smile to her face. When the tour was completed Shirley thanked Nate warmly for his time and attention. "I didn't expect so much recognition," she said.
As a creative arts therapist Li knows how powerful first-hand experience can be for our patients. Taking a virtual tour of the WWII Memorial gave Shirley as chance to see and experience something she thought was lost to her. The tour helped her remember things she hadn't talked about in years while creating a lasting memory.

Care Dimensions Hospice House Video Tour
The Care Dimensions Hospice House, located in Lincoln on the Waltham town line, is a gracious and private home-like setting for patients who need hospital-level care for complex pain and symptom management. To learn more, call our Referral Center at 888-287-1255.