News Releases
August 2, 2017

Walk for Hospice Party to be held at Danversport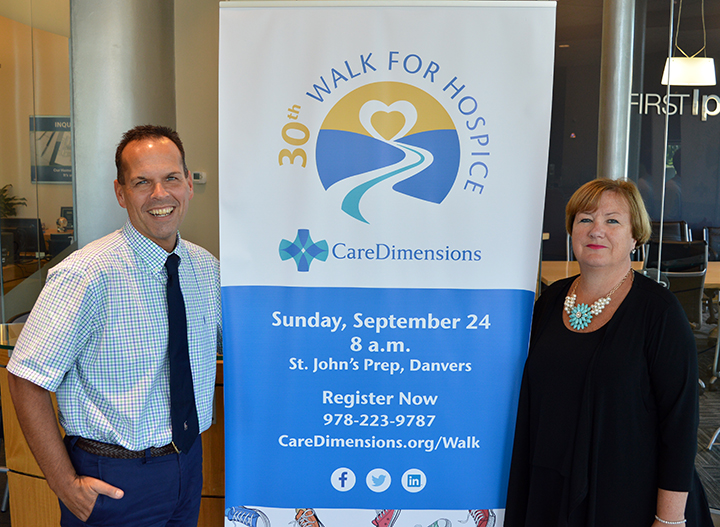 Walk for Hospice Co-chairs Glenn Boutchie of First Ipswich Bank and Maureen Gillis
of East Boston Savings Bank

August 2, 2017 - The Walk for Hospice Committee at Care Dimensions invites the public to join them for a Celebration for the 30th Walk for Hospice on Thursday, September 14 at 6 p.m., at Danversport, 161 Elliott Street, in Danvers. The party will feature an exciting array of signature dishes from favorite North Shore restaurants, an amazing lineup of live and silent auction items, raffles, cocktails, and more. Proceeds from this event, and from the Walk for Hospice, scheduled for Sunday, September 24, at St. John's Preparatory School in Danvers, help underwrite essential programming not covered by insurance, including grief counseling, pain management for adults and children through our palliative care programs, and complementary therapies including massage, Reiki, pet, and music therapies. Tickets for the party are $35 per person and can be reserved by visiting www.CareDimensions.org or by calling 978-223-9787.
Care Dimensions Hospice House Video Tour
The Care Dimensions Hospice House, located in Lincoln on the Waltham town line, is a gracious and private home-like setting for patients who need hospital-level care for complex pain and symptom management. To learn more, call our Referral Center at 888-287-1255.