Featured Story
Family of North Shore Surgeon Finds Comfort at Kaplan House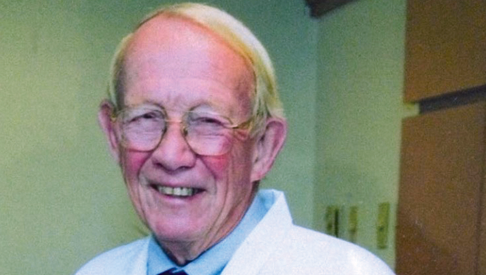 For 47 years, Dr. Mayo Johnson was a well-respected general surgeon at Beverly Hospital and an active member of the community, serving on the Beverly Conservation Commission for 18 years. But even more important to him was his family — his wife of 56 years, Julie, and his children Ken and Charlotte and three grandchildren.
As a nature-lover, he could spend hours fishing, sailing, watching birds and tracking weather systems and storms. He was also a man of ideas, who appreciated lectures on diverse topics, arts and music, and discussing books. "My parents adored each other and embraced each other's interests," explains Charlotte. "For the past 10 summers, they would drive up to the Chautauqua Institution in New York to participate in lectures and art performances. They loved the setting, the people and the experience."
So, after their visit in July 2016, when Dr. Johnson felt weak and worn out after the trip, he visited his doctor and was shocked at the result – he was diagnosed with metastatic cancer that had spread to his spine and liver. He declined treatment and immediately sought hospice care with Care Dimensions. "My father had an immediate connection with his RN case manager, Patrick Murage, and they had very meaningful end-of-life discussions," explained Charlotte. "Patrick was the perfect combination of knowledge, warmth and compassion for a man who had so much dignity."
Though Dr. Johnson wanted to remain home as long as possible, after a month his pain and symptoms were becoming more than his wife Julie could manage at home and he was admitted to the Kaplan House. "When Patrick said he could be admitted to the Kaplan House within two hours, I felt relief beyond anything I had ever felt before," said Julie. "I knew he would be taken care of in a loving way, that he would be protected, and that his last hours would not only be pain-free, but that we could be with him without restrictions. I don't know if anyone can imagine what a comfort that is when a family accepts the reality that their loved one is soon to die."
For three days, Dr. Johnson's family stayed with him at the Kaplan House. "The gardens, birdfeeders, courtyard, benches, chapel, the comfort dogs and the bedside singers all added to the most spiritual and peaceful ending for us as a family," said Charlotte. "That time that we were able to spend with our father without having to worry if we were medicating too much or too little, if he was in pain or comfortable – really all of the things you question yourself about when caring for a loved one were taken out of our hands and gently put into the hands of the staff at Care Dimensions. I'm so glad that his last few days were spent at the Kaplan House – what I consider his layover to heaven."
Please donate to our annual fund in honor of Dr. Johnson and to support patients and families facing one of the most challenging times in their life.
While our website will give you a better understanding about hospice care and the services that Care Dimensions provides, no one can tell the true story quite like our patients, families and staff. We encourage you to take a moment and read their stories and watch our videos.
You'll be forever changed as you learn about life's difficult final journey and the amazing patients, caregivers and staff who've embarked on the experience together.
---