Featured Story
Pediatric Team Helped Teen and His Family Make the Most of Each Day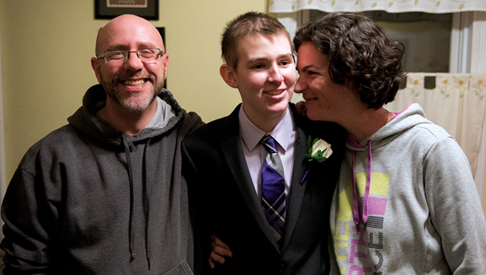 Listening to the bantering between Kyle O'Grady, 15, and his dad, Brett, over if, and how, he was going to ask a girl to dance at his Danvers High School freshman semi-formal dance, it's hard to believe that he had a care in the world, let alone had battled a malignant brain tumor for three years. In those three years, however, Kyle endured countless radiation and chemotherapy treatments, and yet remained positive and determined to live life to the fullest.
But, when his cancer recurred in 2015, Kyle and his family turned to Care Dimensions for additional support. After several successful attempts at slowing down the tumor's growth there was no additional treatment available to stop the progression of Kyle's cancer.
Kyle and his family were no strangers to hospice. In fact, his mother, Abbie, had been a nurse case manager with Care Dimensions for nearly five years. "My Care Dimensions family has been so supportive of us," said Abbie. "Colleagues have donated vacation time, rallied behind our Walk for Hospice team, and on their own time even started a GoFundMe page to help our family financially so my husband and I could afford to take leave from our jobs and enjoy every day we had with Kyle."
From the beginning, Care Dimensions' pediatric team worked to ensure that all of Kyle's physical, emotional and social needs were met. They developed close working relationships with Kyle's primary care team at Dana-Farber and continued to monitor and adjust medications and treatments based on his symptoms. They collaborated with both middle school and high school teachers to maximize Kyle's educational experience and to advocate for his specific needs. The team also encouraged Kyle to take advantage of Care Dimensions complementary therapies, including music therapy, helping him compile a playlist of music that represents him.
An important focus of the team's time helped Kyle, his siblings, parents and grandparents cope with all that they were going through. "They helped us by validating our feelings – it was OK to be sad and confused. And they helped us, as parents, know what to say to Kyle and his sister and little brothers," explained Abbie. Care Dimensions' child life specialist Kristin Goodhue met regularly with Kyle and his siblings, and their time was often spent on a creative activity, which matched well to budding artist Kyle's preference for expression. Among several legacy art pieces he created, Kyle designed his own version of the game Monopoly featuring the significant people, places and experiences that were meaningful to him. "They're places and jokes that only my family will understand, but I know it will make them laugh," said Kyle.
Aside from his love of board games, video games, and comic superheroes, Kyle was committed to making a difference. He was intent on participating in Care Dimensions' Walk for Hospice in October 2016, walking alongside his family and other Team Kyle members and sharing his story to educate families about hospice care. "I'm so proud of Kyle and all that he accomplished," said Abbie. "He always had a positive attitude and was an amazing kid. We focused on enjoying every moment and making the most of every day with him."
While our website will give you a better understanding about hospice care and the services that Care Dimensions provides, no one can tell the true story quite like our patients, families and staff. We encourage you to take a moment and read their stories and watch our videos.
You'll be forever changed as you learn about life's difficult final journey and the amazing patients, caregivers and staff who've embarked on the experience together.
---