Featured Story
Rose Moniz Makes Hospice Volunteering a Family Priority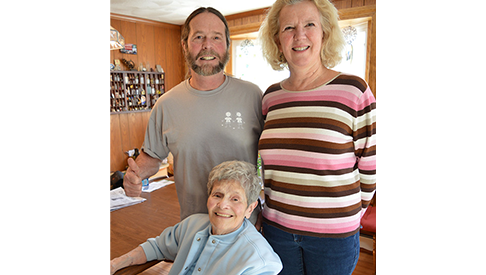 Posted on January 18, 2017 by Anne Williams
At the age of 84, Rose Moniz of Beverly, MA, is still making an impact on the North Shore by inspiring her son and daughter-in-law to volunteer with hospice patients.
It all started in 1994 after Rose's mother passed away on hospice care from the then-Hospice of the North Shore. An active member in the Danvers community, Rose was always looking for new ways to give back and decided to join the ranks of hospice volunteers on the North Shore. That decision launched a 22-year relationship with Care Dimensions.
Rose's fantastic organizational skills made her the perfect candidate for office support and over the years she has done everything from compiling mailings and acting as a receptionist to supporting the Walk for Hospice as an invaluable event-day volunteer. "There's something for everyone as a hospice volunteer," she said. "Whether you're a patient companion, officer worker, or fund-raiser, each volunteer plays an important role in supporting people living with terminal illness."
Rose has passed on her passion for volunteering to her family, with her son, Dan, and his wife, Susan, getting involved as Care Dimensions patient volunteers. Both Dan and Susan currently visit with hospice patients at long-term care facilities or in their homes. For Susan, whose father was on hospice care in the last weeks of his life, visiting with hospice patients is about companionship. "Some of my patients are truly alone in the world," she said. She finds she learns so much from her patients and enjoys hearing them talk about their past and their families. For her nonverbal patients, Susan finds that music evokes happy memories. "One of my patients loves to listen to Shirley Horn and Frank Sinatra. When we find a song she likes on my tablet, her face just lights up. It's a wonderful feeling," she said.
Dan also has learned a lot about hospice patients. "I thought the patients would be lying in bed and unable to do anything, but most of the folks I've seen are not bed-ridden and enjoy my visits," he said. A Verizon retiree, Dan, who also served as a United States Marine, attended general hospice volunteer training and additional training to become a veteran-to-veteran volunteer. During his visits with patients, Dan might play his harmonica or bring them their town's local newspaper. "Having a hospice volunteer keeps these patients connected to their community and shows them that they're still an important part of that community," said Dan, who sums up his volunteer experience in one word, "peaceful. "
Rose's eyes fill with pride when she hears her son and daughter-in-law talk about their volunteer experiences. Volunteering is a family tradition that has its roots in Rose's childhood in Danvers and later in Beverly. Thanks to Rose and the entire Moniz family, Care Dimensions patients are able to live more enriched and connected lives in their time of need.
Learn what it takes to become a Care Dimensions volunteer: https://www.caredimensions.org/volunteers/.
While our website will give you a better understanding about hospice care and the services that Care Dimensions provides, no one can tell the true story quite like our patients, families and staff. We encourage you to take a moment and read their stories and watch our videos.
You'll be forever changed as you learn about life's difficult final journey and the amazing patients, caregivers and staff who've embarked on the experience together.
---