Featured Story
Hospice Volunteer: Just Be Present. That's Enough.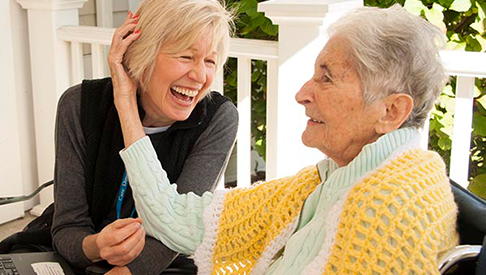 Posted on May 1, 2017 by Annette Pollack
No expectations. Just be present. These two phrases have summarized my work as a hospice volunteer.
I started my journey as a hospice volunteer over 20 years ago when I lived in Rhode Island and was raising a family and consulting part time. I went through the training and was assigned a 90-year-old patient. Our relationship lasted nearly a year, and it ended, not with her death, but with my move to Massachusetts.
Months later, I heard of her passing. That relationship still stays with me to this day. It was hard to leave her. She taught me what it looked like to age gracefully and to reach the end of life without a trace of "why me?" I can still imagine her sitting in her chair as we said our "goodbyes."
Many years passed before I dipped my toe back in the hospice world. After sending my last child off to college, I felt that I had the time to dedicate to this work. Once again, I went through the training and started with my second hospice patient. That was seven years ago. Many, many patients later, I have gained experience and life lessons that only the dying can teach.
At the end of life, we all want the same thing: to be heard and to be seen. We want to matter. We want our life to have had meaning. We reach for connection and love.
Death is a natural part of life

What draws me to this work? I was raised on a farm in Ohio and was familiar with the cycle of life, with the farm animals as well as the planting and harvesting of crops. My grandfather died when I was 10. He lived with us and it seemed quite natural that, over the years, he was growing older and weaker. All three of my siblings were in the house when he died. Mom and Dad called us to his bedside and we knelt to say a prayer. We witnessed our parents' grief. We witnessed his body being taken away. Then, we attended his funeral. I have no memory of fear of death; just sadness. It was all just natural. This introduction to the end of life was, in itself, life changing. Only when I reached adulthood, did I realize how few people have this type of intimate experience with death at such an early age.
Many relatives, friends, and family members have since passed away. There has, indeed, been great sadness, longing, and pain. I have been present for family members when they took their last breath. I considered it an honor to be present and to bear witness to the person leaving this earth. I remain steadfast in my belief that there can be a "good death." I have seen hospice in action as a choice for my friends and family. It is my belief that the more we talk and discuss and plan for our own death, we will be able to live better each day with more joy and fulfillment.
Hospice volunteers are just there to be

What an incredible role we have as hospice volunteers to simply be there for whatever it is that our patient may need. Sometimes, we are the sounding board for family strife, for unfinished business, for longing, for anger, resentment and regret. Other times, we listen to cherished family stories and joyful memories. Sometimes, we are simply the person in the room keeping watch as a caregiver takes a needed break. It has taken a while to learn that with each patient assignment, a new world opens up. We, as volunteers, are just there to be. Our role unfolds as time goes on.
I have also learned that as a hospice volunteer, I enter not only the patient's world, but the family's world as well. How do we fit in? Are there family members around? What do the caregivers or family members need or want from us? Companionship? Reading? Singing? Music? Hand holding? It is up to us to dig a little deeper and find a connection.
My current patient has been on hospice for about a year. As she declines and her verbal communication becomes more compromised, our time together adjusts to whatever works best for her on any particular day. In the beginning, I asked many questions about her Italian heritage. Soon, through a very thick Italian accent, she told me the name of the town where she was born. That led to many visits where we would search the internet and find beautiful photos of her home town on the tiny Aeolian island of Lipari. She shared stories of her past that brought such joy to her face. She would beam over her love of country and her face would light up telling stories of the old days; some painful, some joyous. Sometimes, it was just a word or phrase that she would share that sent her to a place in time, back in the house where she grew up so many years ago: mother, father, the color of the ocean water, singing, piano, mandolin, lemons, dinners, vineyards, war, Mussolini, Bocelli, family, love, love, love.
I showed her photos of volcanos and blue ocean waters and vineyards. On days when she was too tired to look at the computer, I would play her favorite music (Bocelli) and just sit and enjoy the peaceful moments. These days, we may not have much conversation, but words are not always needed. No expectations. Just being present is enough.
When I leave, I am content knowing that she has had someone present with her – even if I feel I didn't do much. I hope her day is better because she had someone there who cares. That caring goes a long way. When I leave, I turn around and wave goodbye. She returns the favor and gives me a little wave as well.
Learn about becoming a hospice volunteer.
While our website will give you a better understanding about hospice care and the services that Care Dimensions provides, no one can tell the true story quite like our patients, families and staff. We encourage you to take a moment and read their stories and watch our videos.
You'll be forever changed as you learn about life's difficult final journey and the amazing patients, caregivers and staff who've embarked on the experience together.
---