Featured Story
Life Has Greater Meaning as Hospice Volunteer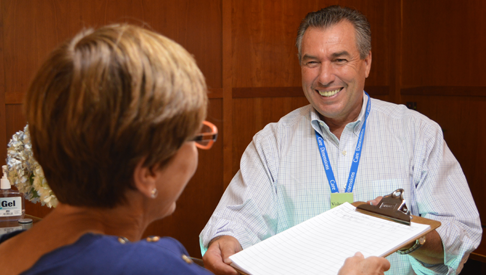 Editor's note: For several decades, John Keohane of Danvers has been a strident supporter of Care Dimensions. As the former owner of Henry's Market in Beverly, he served on the Kaplan Family Hospice House Steering Committee in 2005 and previously served as co-chair for the Walk for Hospice. He's been a member of the Walk for Hospice committee since 2006. Over the years, John's generosity has included providing bagels for hungry Walk participants, hosting fundraisers such as several Oktoberfests, and even donating a wedding cake, or two, for an impromptu patient/family wedding at the Kaplan House.
Now retired, John reflects on his new volunteer role at Care Dimensions:
Life brings changes. Having a little extra time in my schedule has given me the ability to live life on my terms, and for me, that includes volunteering my time with an organization that cares for people when they are most fragile. My journey with Care Dimensions started many years ago, with the care and comfort my mother received in her final stages of life. She was one of the first patients to receive care through Hospice of the North Shore and her experience opened my eyes to people's special needs at end of life. Throughout the years, Care Dimensions has continued to help my family and the communities we live in. I've had many a friend, colleague, or customer require their expertise.
In my work experience at Henry's, I found that when people are thrown into unfamiliar situations they look for comfort, understanding, or a familiar face that can console or offer insight. I'd been to the Kaplan House many times, to visit loved ones or for meetings, and realized that I could be that understanding presence as a Kaplan Family Hospice House volunteer.
In 2015, I signed on for the Care Dimensions volunteer program, and looked forward to learning more about the role of these volunteers. In the friendly and supportive training; I learned about:
The role of the volunteer in a hospice setting
Understanding boundaries
The importance of taking care of yourself and seeking support when you need it
After the training, I became a greeter at the front desk of the Kaplan Family Hospice House. I was offered ongoing training and communication to make my efforts as comfortable and enjoyable as possible. During my four-hour shifts, I've witnessed families and friends, community members. and Care Dimensions staff all going about their day. I can often feel the sense of relief visitors experience when they step over the threshold. Many of them talk about the quality of care and dignity that their loved one is receiving. And, there are many afternoons when I'm reminded of the deep emotions that this time of life elicits and the importance of being in a place with people who truly understand.
I'd encourage anyone – working or retired – to consider becoming a hospice volunteer with Care Dimensions. For some people, that may mean stepping out of their comfort zone. I can tell you that your efforts will be greatly valued and that you will gain support and friendship from your fellow volunteers. You will look forward to your volunteer assignment knowing that you are supporting others when they need it most. You will find that your volunteer efforts enhance your life and give greater meaning to the old adage, "Live each day to the fullest."
Volunteers are the heart of hospice. Learn about volunteering options and our extensive training.
While our website will give you a better understanding about hospice care and the services that Care Dimensions provides, no one can tell the true story quite like our patients, families and staff. We encourage you to take a moment and read their stories and watch our videos.
You'll be forever changed as you learn about life's difficult final journey and the amazing patients, caregivers and staff who've embarked on the experience together.
---