Featured Story
From Hospital Nurse to Hospice Reiki Volunteer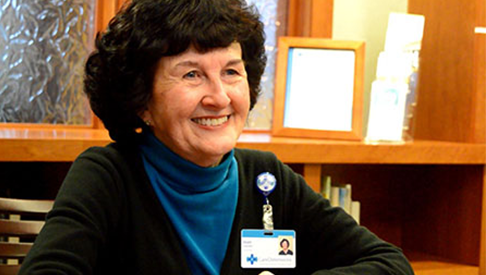 I am a nurse. I worked at North Shore Medical Center (formerly Salem Hospital) for 43 years, and for the last 25 years of my career, I prepared people for surgery. I liked making connections with patients. I had people who returned for another surgery and told me they were glad to see me because I had helped them feel calm the previous time they were preparing for a procedure. It was great to get that positive feedback.
While at the hospital, I observed a nurse who was a Reiki master. She used to give Reiki to patients who were going in for bariatric surgery. I saw how she calmed patients through Reiki. I told her that I was interested in learning Reiki, and she said with a smile, "I have watched you with your patients, and it seems you have been doing it all along." She was joking, but knew that I could learn the ancient relaxation technique. I began classes with her and have continued for many years.

Becoming a hospice volunteer

When I retired, becoming a hospice volunteer with Care Dimensions was a natural fit because it connected me to patients who needed me. Now, I give Reiki to patients and family members at the Kaplan Family Hospice House. I'll visit folks in their room and ask if they're interested in having Reiki. Some people are not familiar with it, so I explain it's energy work using light touch. It's not a cure, but it can help them relax and often drift off to sleep. I can see that I've helped them, which is very important to me. Helping people is part of my fabric. It hasn't gone away just because I no longer go to the hospital every day.
One time, I came across a patient who had her three daughters and one granddaughter sitting in her room as she lay still and quiet. I decided not to interrupt and moved past the room. A few minutes later, one of the hospice aides told me that the family wanted me to give Reiki to the patient. So I began, and each time I moved my hands, the patient released a gentle sigh. This happened several times, and then I thought I heard some soft sobbing from the other side of the room. When I finished, I walked over to the family members and said, "I thought I heard someone crying."
"We're all crying," they said.
"Why?" I asked.
"Because she LOVED it."
They were taking the sighs as sounds of pleasure, and within a couple of hours, that lady passed. Then the family members came looking for me to thank me. That was the first time anything like that had happened to me, and it was quite amazing. I was very happy that they felt I had eased her pain and made it easier for her to pass. But even now, thinking about it, it was quite a breathtaking event.

Rewards of volunteering for hospice

It makes me very happy that I was able to help that family and others who have benefited from my giving Reiki. It's like a special gift. The only thing that I can remotely compare that feeling with is when I was helping young mothers in the hospital learn to breastfeed. It was rewarding to see them feeling more confident. Helping hospice patients who are near death, and being able to share special moments with them, is something that not everyone gets to experience. They're very deep, very personal moments.
My need to be useful to others is a big part of who I am, and volunteering to help Care Dimensions hospice patients fulfills that need nicely. It's like food and water to me. I know that when I'm volunteering, it's appreciated. And that appreciation goes a long way for happiness and fulfillment.
Some people ask, "You volunteer at the hospice house? How can you do that?" I love it! It's very hard for people to understand, because they only think of someone dying there. But witnessing someone passing is such an amazing thing . . . it's out of our realm. I liken it to being present at a birth. I've done both, and there's something very special about it. It's like a miracle.

Care Dimensions offers volunteer training classes several times each year in Danvers, Burlington, and Lincoln/Waltham. See our Volunteers page for information about upcoming trainings.
While our website will give you a better understanding about hospice care and the services that Care Dimensions provides, no one can tell the true story quite like our patients, families and staff. We encourage you to take a moment and read their stories and watch our videos.
You'll be forever changed as you learn about life's difficult final journey and the amazing patients, caregivers and staff who've embarked on the experience together.
---