Featured Story
Appreciation of Support Spurs Donor to Honor Care Dimensions in Estate Plans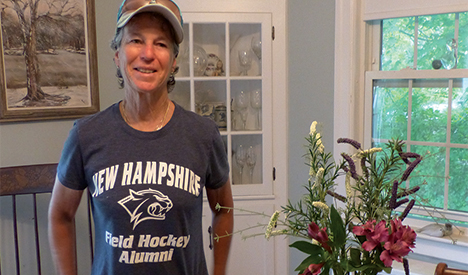 The spring and summer of 2016 was a very difficult time for Marisa Didio and her family. Her brother John, who had been battling cancer for several years, had decided to stop radiation treatment and focus on quality of life with the help of Care Dimensions' hospice care team.
After several months with hospice care at home, his pain and symptoms increased to the point where he could not be cared for at home and he was transferred to the Kaplan Family Hospice House.
Once John was in the care of the Kaplan House clinical team, his daughter Alicia could switch from being her dad's caregiver to being his daughter again.
"He was so well cared for by the staff," says Marisa, "Now she could relax and just spend precious and personal time with her dad."
Meanwhile, Marisa's mother, Jacqueline, was also declining. After experiencing several years of the effects of dementia, Jacqueline was also receiving hospice care at home. With the help of private home care aides, Marisa was her mother's primary caregiver, which required traveling between her home in southern New Hampshire to the family home in Lynnfield where Jacqueline had lived for 62 years.
The Gift of Being a Caregiver
"It's a privilege to be with someone on their last days or years," says Marisa. "When that doorbell rings, you have to decide who is going to answer that call. It's a gift to be a caregiver and to make that choice to be there."
A month after his admission to the Kaplan House, John died. Two days after her son's death and when her symptoms could no longer be managed at home, Jacqueline was transferred to the Kaplan House. Marisa requested the same room and care team that had cared for her brother. Two days later, Jacqueline died peacefully with Marisa by her side.
For Marisa, losing her brother and her mother within days of each other was challenging. Yet, even in her grief, she was determined to honor her mother and her brother's lives. Bereavement also reminded her that it matters what we do and for whom.
The Legacy Gift of Hospice Services for Other Families
In 2017, Marisa included Care Dimensions in her estate plans through a planned gift and became a member of Care Dimensions' David Sherman Legacy Society. Established in 2011, the Society honors and acknowledges individuals who have made Care Dimensions part of their estate plans through a bequest, gift annuity, charitable trust or other form of deferred giving.
Marisa wants her planned gift to make a tangible difference for patients with advanced illnesses and their caregivers. "I really want other families to experience Care Dimensions' philosophy of hospice care, just as I and my family experienced it," she says.
Leave a Legacy
A planned gift can help you make a more substantial gift, as well as address your financial needs, while ensuring the work of Care Dimensions will continue for generations to come. A planned gift provides flexible options for you to honor your loved one now with a transformational gift through your estate.
Commitments can made be made in a variety of ways, including designating a fixed dollar amount or percentage of your estate, property or stock, or making Care Dimensions a beneficiary of your retirement accounts.
To discuss your estate plans or join the David Sherman Legacy Society, please contact our Philanthropy Department at 978-223-9787 or Giving@CareDimensions.org
While our website will give you a better understanding about hospice care and the services that Care Dimensions provides, no one can tell the true story quite like our patients, families and staff. We encourage you to take a moment and read their stories and watch our videos.
You'll be forever changed as you learn about life's difficult final journey and the amazing patients, caregivers and staff who've embarked on the experience together.
---