Featured Story
Living Longer, Better with Palliative Care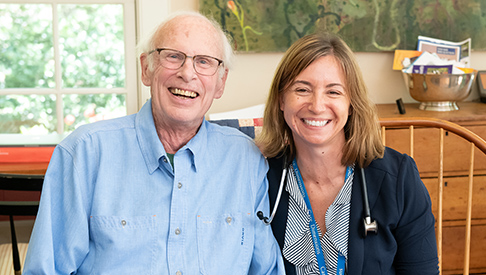 Four years ago, Steve Homer was an active 76-year-old retiree who enjoyed gym workouts, cross-country skiing, woodworking, gardening, and keeping up with his seven grandchildren. So, when he was diagnosed with peritoneal mesothelioma (a cancer of the tissue lining the abdomen) that often results in death within 12 months, he decided to face it head-on.
He underwent several cycles of chemotherapy, which were complicated by adverse side effects. He then tried immunotherapy, but the cancer continued to progress. He opted to try surgery to remove as much cancer as possible, but excessive scar tissue prohibited his surgeon from completing the operation.
In 2018, Steve decided to discontinue treatment and focus on quality of life. He was still strong enough to do most of his favorite activities. He turned to Care Dimensions for palliative care to manage his symptoms and help him live the way he wanted while dealing with a serious illness.
Research and relationships
A former financial manager who graduated from Harvard University and worked in several high-profile financial positions, Steve is used to researching topics before deciding on an option. Choosing a palliative care provider was no different. He and his wife, Marcy, had heard of the Kaplan Family Hospice House through a daughter's friend. During their research, they came upon the Care Dimensions website where they learned about the transitional offerings of palliative care and in-home hospice, with the possibility of inpatient hospice at the Kaplan House if the need arises.
"It seemed to be a perfect fit for our situation," said Steve. "My health care team gave positive reviews about Care Dimensions, so I signed up for palliative care with them."
"When I began seeing Steve for palliative care visits, his primary goal was to continue to enjoy good quality of life for as long as possible and live to celebrate his 80th birthday," recalled Nurse Practitioner Jessica Guaragna. "I explained we were partners. I could communicate with his health care team, provide information and insight, and make suggestions, but any treatment decisions would be up to him."
"Jessica and I hit it off right away and we quickly learned to trust each other," said Steve, who turned 80 years old earlier this year. Palliative care not only helped him reach his goal but took some pressure off him and Marcy. "Before I started palliative care, there was no real integration among my different health care providers. Jessica provides oversight of my medical care and communicates with all my physicians. It's reassuring for me and Marcy to know that everyone's on the same page and my care is coordinated."
One day at a time
Steve's symptoms have varied over the past three years and have included pain, fatigue, and shortness of breath, but he and Jessica have worked together to address them.
"We have used oral and nebulized medications, injections, thoracentesis (procedure using a needle to remove fluid from around the lungs), supplemental oxygen, and more recently low-dose morphine to better manage his symptoms," noted Jessica. "Along the way, Steve has made decisions about available treatment options on his own terms when he was ready for 'the next step.' Although none of these interventions have cured his symptoms, they have enabled him to maintain the best possible quality of life while living with a life-limiting disease."
Since starting palliative care, Steve has enjoyed trips to Florida and Maine, visits from his three daughters and their families, and tending to his vegetable garden. Having run his own preservation carpentry business for over 20 years, Steve continued to touch up features of his and Marcy's North Shore home, which was built in 1800. In the summer of 2020, he built an outdoor shower with his 14-year-old grandson at his lakeside cabin in Maine.
Steve and Marcy added their golden doodle, Ozzie, to the family in April 2019, which Steve calls "good therapy." Steve remained socially engaged with friends and family via Zoom during the pandemic. Now fully vaccinated against COVID-19, he attends a local men's lunch group most weeks.
In recent months, Steve has had more difficulty breathing, so he accepts help with tasks from his family and supportive neighbors and reluctantly hires contractors "to do things that I can no longer do." Realizing his abilities are declining can depress Steve sometimes, and he turns to Jessica for support. They have spoken many times about what to expect from his disease and what types of care he would and would not want during the remainder of his life.
"Steve recognizes he is slowing down but is comforted to know his affairs, including his health care proxy/advance directives and his burial plot, are in place," said Jessica. "He also knows he can transition to hospice care in his home as his disease continues to progress and symptoms become more difficult to manage. He and Marcy have always been realistic about the future and have found a way to truly live each day to its fullest."
"Jessica is my expert medical advisor and a wonderful friend," said Steve. "It's comforting to talk to her about whatever I'm dealing with. She's a breath of fresh air and we have great chemistry."
"It's always a good time for Steve when Jessica comes to see him," added Marcy.
While our website will give you a better understanding about hospice care and the services that Care Dimensions provides, no one can tell the true story quite like our patients, families and staff. We encourage you to take a moment and read their stories and watch our videos.
You'll be forever changed as you learn about life's difficult final journey and the amazing patients, caregivers and staff who've embarked on the experience together.
---