Featured Story
Patient Treasures His Volunteer Visits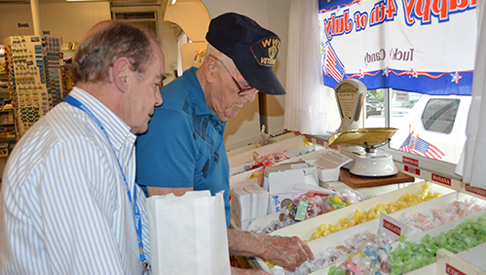 If you were looking for Frank Medeiros this summer, he may have been driving through Nahant to provide companionship to Care Dimensions' patient Stewart Hadley, or driving to Rockport so that Mr. Hadley could get his regular supply of saltwater taffy that he gives to visitors in his home. As a volunteer for 30 years, Mr. Medeiros estimates that he has spent time with about 50 patients over the years.
Medeiros is a long-time supporter of Care Dimensions and contributed to the campaign to build the Kaplan Family Hospice House. He is also a member of the David Sherman Legacy Society, which means he has named Care Dimensions in his estate plans.
"I do it (volunteer) because of the joy of helping someone out," Mr. Medeiros said.
Mr. Hadley and Mr. Medeiros both enjoy the companionship that the volunteer program can provide to Care Dimensions patients. "I enjoy spending time with him (Mr. Hadley). We talk about whatever interests him and enjoy going for a ride," Mr. Medeiros said.
Volunteers can do so many things…visit patients wherever they call home, provide help by running errands, shopping for groceries, etc., serve as a vigil volunteer by staying with actively dying patients who have no family or whose family members live at a distance, provide hair styling, massage therapy, pet therapy, etc., provide event or office support.
Our volunteers go through
specialized training and training sessions
are offered throughout the year. Volunteers can also work with patients at various times throughout the day and in many capacities. Volunteers tell us that they benefit greatly from their time with our patients. As Mr. Hadley's daughter can attest, "My Dad eagerly looks forward to his visits with Frank. They make a great team."
While our website will give you a better understanding about hospice care and the services that Care Dimensions provides, no one can tell the true story quite like our patients, families and staff. We encourage you to take a moment and read their stories and watch our videos.
You'll be forever changed as you learn about life's difficult final journey and the amazing patients, caregivers and staff who've embarked on the experience together.
---