Striving for the Best Experience
The Care Dimensions Patient and Family Advisory Council (PFAC) is a diverse group of patients, family members, clinicians, staff and leadership that works in partnership to enhance the patient and family care experience. The Care Dimensions PFAC is composed of 11 family or community members and six staff members from the North Shore and Greater Boston. Its goals include:
Encourage greater understanding of the hospice experience through the eyes of the patient and family
Channel patient and family specific needs, concerns and recommendations to staff and leadership for review
Evaluate practices, programs and services and provide feedback
Collaboratively work on projects that will enhance patient- and family-centered care
Learn More About the Patient and Family Advisory Council
As the embodiment of the organization's commitment to innovation, improvement, and striving for the best patient and family experience, Care Dimensions is one of the first hospices in the country to launch a PFAC. Formed in 2018, the committee's accomplishments thus far include:
Co-designing an enhanced, communication training module for staff called "Communicating with Compassion"
Assisting our communication and symptom management improvement teams
Offering feedback on marketing materials
Join the Care Dimensions PFAC
Everyone's hospice experience is an individual journey. We want to hear about your journey to gain insight about our hospice services. By becoming a PFAC member, you will have a valuable impact on the patient and family experience. Monthly meetings are held during the day in either Danvers or Waltham, and members are asked to commit to at least a one-year term.
"As a member of PFAC, I am helping future patients and their families through my feedback . . . We are sharing our experience with the organization that is playing a vital role in our society because our society is not terribly educated around the dying process, and Care Dimensions is filling that gap."
- Meghan Gardner, PFAC member from Bedford, MA
To learn more about membership, or to suggest an issue or topic for PFAC to explore, contact Patient and Family Relations Coordinator Amy Ciancarelli at 781-373-6604 or
[email protected]
.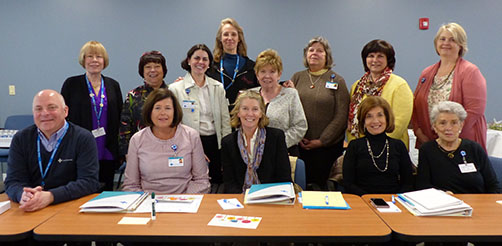 Front row: Jim Feldman, Diane Brinkley, Abby Reeve, Francine Temkin, Ann Moran
Back row: Joan Dubis, Pat Ahern, Amy Ciancarelli, Meghan Gardner, Sheryl Meehan, Beverley Simonini, Jean Ball, Jean Graham. Not pictured: Sally Huss, Barry Kahn and Mary McCormack-Gendzel