Care Dimensions encourages and supports organizational involvement in research initiatives that lead to improved quality of care provided to patients and families through the contribution of new knowledge.
Director of Research Susan Lysaght Hurley, PhD, GNP-BC, leads our research initiatives and is assisted by Research Associates Olivia Wood, MSW, and Caroline Gettens, BS. If you are an investigator interested in conducting your research at our agency, please email: research@caredimensions.org to begin the application process.
Current Collaborative Work

The Hospice Advanced Dementia Symptom Management and Quality of Life Trial (HAS-QOL): R33 Phase
This study focuses on quality improvement via the implementation of Aliviado Dementia Care, a dementia symptom management and quality of life training for members of the hospice interdisciplinary team. A total of 25 hospice agencies will be participating in this study across the United States. The goal is to improve quality of care for the person living with dementia and their caregiver, reduce antipsychotic medication use, and increase caregiver satisfaction.
Principal Investigator: Abraham (Ab) Brody, PhD, RN, FAAN
Funding Sponsor: National Institutes of Health
Timeline: January 2020-December 2023
Website: https://nursing.nyu.edu/research/project/hospice-advanced-dementia-symptom-management-and-quality-life-trial-has-qol
Standardized Patient-Centered Medication Review (SPECTORx) in Home Hospice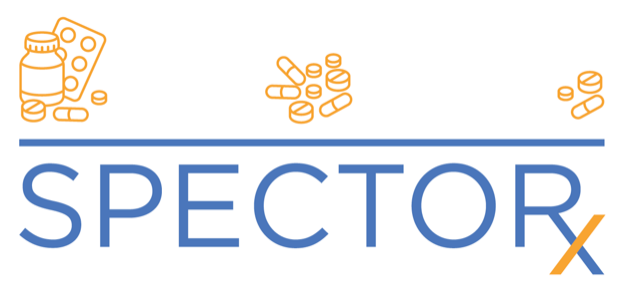 This is an NIH-funded intervention study that focuses on patient-centered medication review, family caregiver support for medication management, and standardizing approaches to appropriate medication use. This intervention provides evidence-based tools to equip hospice staff with the latest information about how to regularly review, simplify, and align patients' medications to their goals of care as end of life approaches.
Principal Investigator: Jennifer Tjia; MD, MSCE, FAAHPM, Associate Professor of Medicine and Quantitative Health Sciences, University of Massachusetts Medical School
Co-Investigators: Margaret Clayton, PhD, APRN-BC, FAAN, Professor, University of Utah College of Nursing; Susan DeSanto-Madeya, PhD, APRN -CNS, FAAN, Associate Clinical Professor, Boston College, Wm. F. Connell School of Nursing
Funding Sponsor: National Institute of Aging
Timeline: Winter 2020-Spring 2021
Website: https://clinicaltrials.gov/ct2/show/NCT03972163?term=tjia&cond=hospice&draw=2&rank=1
Interactions Among Adolescents with a Parent in Hospice and the Hospice Care Team

This study aims to learn about the coping and communication methods of adolescents with a parent on hospice. If you believe your adolescent might be interested in participating in this short 10 minute survey, please email research@caredimensions.org for the questionnaire link. The survey askes a series of questions regarding how often the adolescent has done certain things over the past 2 weeks and how comfortable they were with each of these experiences. For example, talking with friends and family about their ill parent's illness. There will be a spot for both yourself and the adolescent with a parent on hospice to sign consent before completing the survey. At the end of the survey, participants are asked if they would be interested in participating in an additional virtual interview with one of the members of the research team regarding their experiences. These interviews last approximately 20 minutes. For more background about the project, view this informational video from the study's Primary Investigator or watch this video from a member of the project's Young Adult Advisory Group.
Principal Investigator: Denice Sheehan, Interim Dean and Professor Kent State University College of Nursing
Funding Sponsor: National Institute of Nursing Research
Timeline: Spring 2020 – Spring 2022

Current Care Dimensions Donor-Funded Quality Improvement Projects
Caregiver Connection
Caregiver Connection is an innovative caregiver support program utilizing a hospice patient mobile-health application (TapCloud®) adapted for family caregivers to enhance communication and support unmet caregiver needs, particularly for those most vulnerable socio-economically.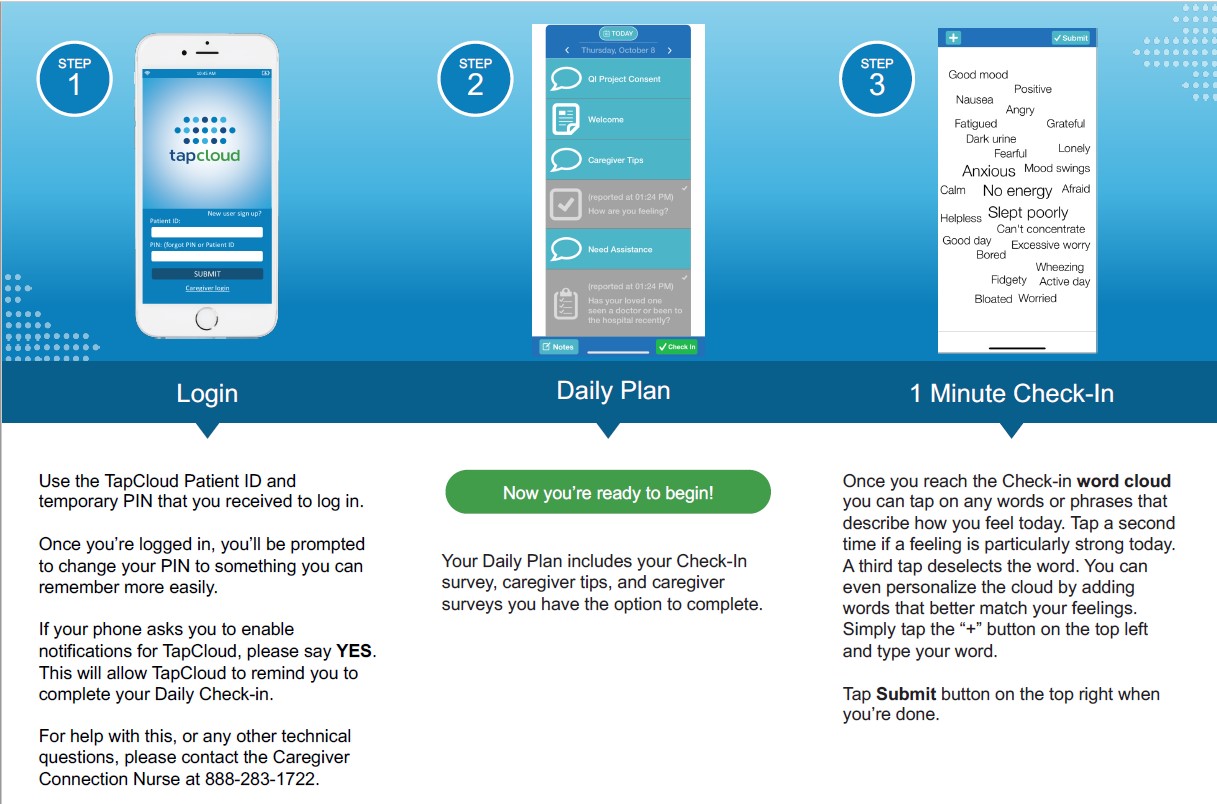 Funding Sponsor: The Alex & Rita Hillman Foundation
Timeline: Summer 2020-Summer 2021