Transforming Cranney Corner for Virtual Walk for Hospice
Posted on July 28, 2020 by Judy Cranney, RN, MS, CHPCA, NEA-BC
As the COVID-19 pandemic has forced Care Dimensions to take our Walk for Hospice virtual this year, I'd like to share some memories of previous walks and invite you to join us in continuing our commitment to patients and families struggling with life-limiting illness.
For the nearly 18 years that I have been at Care Dimensions, my husband Patrick and I have volunteered as road monitors at what now appears as Cranney Corner on the Walk for Hospice map (where Kenmore Drive meets Longbow Road in Danvers, MA). In the beginning, we figured we got a "B Team job" away from all the action in the Walk Village. We were so wrong, as it has been a wonderful experience!
Simply put, we give directions to those who may need them. The most frequent question we hear is always, "I am really out of shape; where is the short route?"
Our therapy dogs
For many years, it was just Patrick and me. Six years ago, our dog PJ joined us. Three years ago, our new pup, Redmond, came along. As a trained therapy dog and a therapy dog in training, they really know how to work the crowd! Our usual greetings from the walkers changed from, "Thank you for all you do" to "Where are the dogs?"
Giving directions expanded to so much more. As walkers passed, we thanked them for walking for Care Dimensions. They told us that they were walking to thank Care Dimensions.
Each year, we would see old friends and make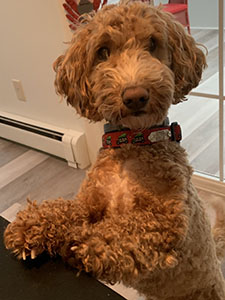 new ones. Many folks want to tell us about their loss, sometimes so fresh it hurts. We've received lots of hugs.
We've seen employees who have introduced us to their spouses, children, grandchildren and pets. It is an honor to meet the people behind our employees, as they do really tough work. We've supplied Band-Aids, cold drinks and a place to sit for a little while, particularly on the very hot days. A few times, we accessed emergency medical service for a person in need.
After learning that many Care Dimensions supporters complete the Walk before the 9 a.m. kick- off, we took our position 45 minutes early to be sure not to miss them. They are the quiet walkers, sometimes by themselves or with a friend who proudly tells us about who they lost.
Reflecting on the Walk for Hospice
When the Walk finished, we headed to Starbucks for something warm or cold to drink depending on the weather. We would go home or to the beach if the weather was good. We talked about who we met and how lucky we are to be part of the Care Dimensions community. PJ and Redmond would take a nap. This pet therapy thing can be exhausting!
We were feeling a bit confused this year when we realized we wouldn't have our usual role in the virtual Walk, so we did the next best thing and posted a fundraising page . . . but we still will miss our corner!
Support the Walk for Hospice – Virtual Edition as we remember our loved ones, celebrate special caregivers and inspire support to ensure care is always available to those in need.
About the author
Judy Cranney, RN, MS, CHPCA, NEA-BC, is Vice President and Chief Operating Officer for Care Dimensions.
[ ]
Subscribe
Enter your email address to get
notified when new articles are published.
Search