Remembering a Loved One During the Holidays
Click PLAY on the above video to watch this year's Virtual Tree of Lights Ceremony.
It's not too late to honor a loved one or friend by illuminating a light on the Care Dimensions Tree of Lights and inscribing their name in the Tree of Lights Honor Roll Book. Names will be added continuously to the Honor Roll Book as they are received.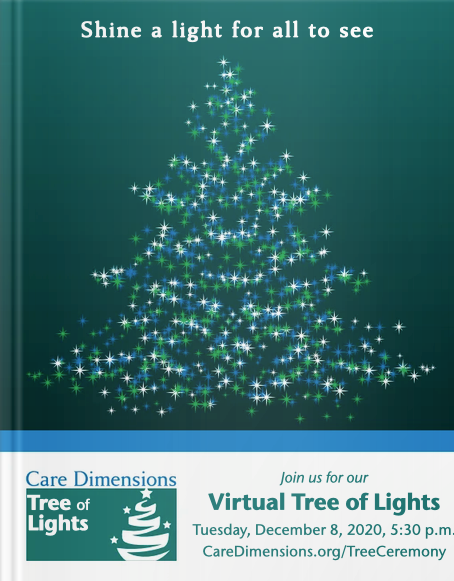 After you illuminate a light for those you hold dear, the Honor Roll Book is where you can see their names and easily send others a link.

While this year's ceremony will take place virtually, lights will shine, twinkling in tribute to those who have brightened our lives. After December 8, lights will shine at the following locations:
Care Dimensions Hospice House Kaplan Family Hospice House
Lincoln Danvers
People's United Bank BankGloucester
Danvers Square Gloucester
Swampscott Town Hall
Swampscott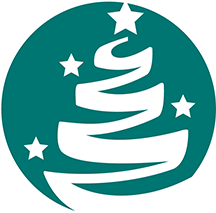 We are offering our Coping with the Holiday workshop directly after the Tree of Lights broadcast.
Following the Tree of Lights ceremony on December 8, our Grief Services Department is offering a virtual workshop for anyone who has experienced a death this year. If you have questions or plan to attend, please RSVP to Grief@CareDimensions.org or call 978-774-5100.
Care Dimensions is a Nonprofit Organization
All fundraising proceeds enable Care Dimensions to continue our vital role of providing essential physical, emotional and spiritual support to terminally ill patients and their families. As a 501(c)3 nonprofit organization, all donations to Care Dimensions are fully deductible to the extent permitted by IRS guidelines. Our Federal Tax ID Number/EIN is 22-2873792.
Please Contact Us
We are always happy to speak with you about ways to support our mission. Call or email me anytime.
Amy Rein, Special Events Manager
978-750-9357
​ARein@CareDimensions.org
To mail a donation, including donations for the Kaplan Family Hospice House or the Care Dimensions Hospice House, please send to:
Care Dimensions
75 Sylvan Street, B-102
Danvers, MA 01923