Remembering a Loved One During the Holidays

This holiday season honor a loved one or friend by illuminating a light on the Care Dimensions Tree of Lights and inscribing his/her name in the Tree of Lights Honor Roll Book.
Your thoughtful tribute is a tax-deductible gift that enables Care Dimensions to continue its vital role of providing essential physical, emotional and spiritual support to terminally ill patients and their families. Tree lighting ceremonies are held in Danvers, Swampscott, Gloucester, and Weston. Each ceremony is followed by a community reception and an opportunity to view the Honor Roll Book.
In addition, Care Dimensions' Grief Services department schedules Coping with the Holiday workshops following the Danvers and Weston events. For more information or to register for the workshop, please call 855-774-5100 or email Grief@caredimensions.org.
2018 Tree Lighting Ceremonies


Gloucester


BankGloucester, 160 Main Street


Monday, December 3, 2018 at 5 pm


Danvers
People's United Bank,1 Conant Street
Tuesday, December 4, 2018 at 5 pm

Weston
Barn of the Josiah Smith Tavern, 358 Boston Post Road
Wednesday, December 5, 2018 at 4 pm

Swampscott
Swampscott Town Hall, 22 Monument Street
Thursday, December 6, 2018 at 5 pm

Those Who Make Tree of Lights Ceremonies Possible
We gratefully acknowledge the continued support and hospitality of all those who make these events so meaningful for those who are coping with loss during the holidays.
BankGloucester
The Barn of the Josiah Smith Tavern, Weston
First Church of Swampscott
People's United Bank
Town of Danvers
Town of Swampscott
Care Dimensions is a Non-profit Organization
All fundraising proceeds support the Care Dimensions mission to provide comprehensive and compassionate support for children and adults with advanced illness, death and loss. As a 501(c)3 non-profit organization, all donations to Care Dimensions are fully deductible to the extent permitted by IRS guidelines. Our Federal Tax ID Number/EIN is 22-2873792.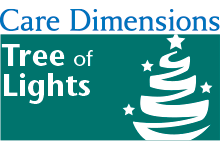 Please Contact Us
We are always happy to speak with you about ways to support our mission. Call or email me anytime.
Amy Rein, Special Events Manager
978-750-9357
​ARein@CareDimensions.org
To mail a donation (including donations for the Kaplan Family Hospice House or the Care Dimensions Hospice House), please send to:
Care Dimensions
75 Sylvan Street, B-102
Danvers, MA 01923