40th Anniversary Gala

In celebration of our 40th anniversary, we have reimagined our annual Hospice Auction & Regatta event and are proud to announce our upcoming Care Dimensions 40th Anniversary Gala, on Friday, June 15th at 6 pm at Tedesco Country Club in Marblehead. Buy your tickets online!
Since our founding in 1978 as Hospice of the North Shore, Care Dimensions has evolved from a small volunteer agency to the largest provider of hospice and palliative care in Massachusetts, serving over 800 patients and their families daily and touching the lives of hundreds of thousands in our communities over 40 years. This could not have been done without support from the 90 communities we serve. Your help ensures that those in their greatest time of need have access to expert physical, emotional and spiritual care, regardless of their ability to pay.
Your donations are put to work immediately, helping to bridge gaps in funding, support bereavement services for adults and children, and assure that exemplary care is given to all patients and their loved ones. Your sponsorship of and attendance at the 40th Anniversary Gala is key to ensure that these vital resources continue to be available to everyone.
The Anniversary Gala will be a spirited evening beginning at 6 pm with a cocktail reception, followed by a gourmet dinner and a short inspirational program and live auction. We will also enjoy dancing and live music from the amazing 18-piece Soft Touch Dance Band.
Live Auction Preview
The Live Auction will feature an exciting array of impressive travel excursions, sports items and VIP experiences. Proxy bids will be accepted. Below is a sneak peek at a few of the items up for bid or preview the whole list here:
Signature Artwork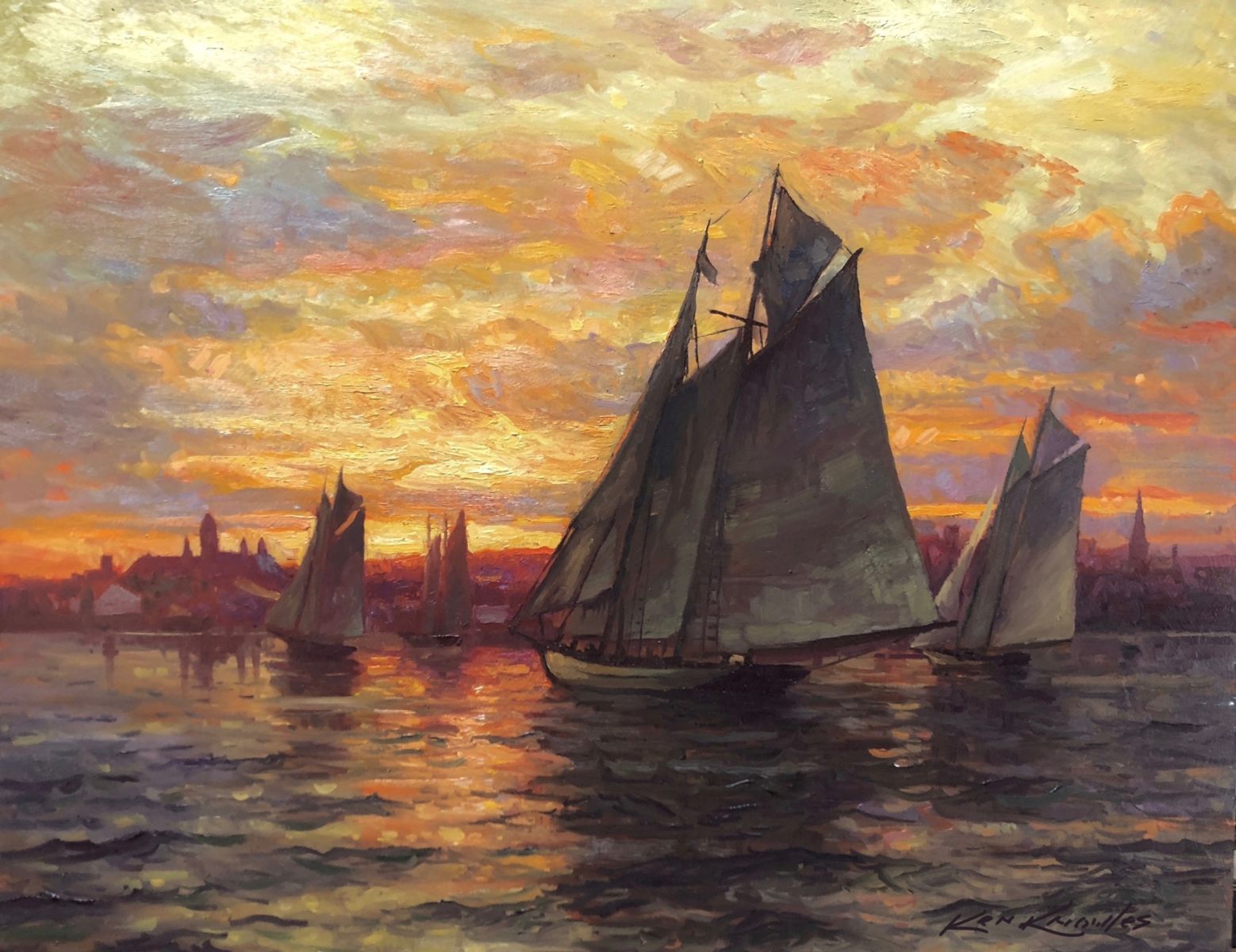 This year's signature artwork, Sunset in Gloucester Harbor, is a 24 x 30 original oil painting by Rockport artist, Ken Knowles. Two of Knowles' favorite subjects, Gloucester schooners and the city skyline are washed with sunset colors. The blazing sky is not typical for Ken's work and has taken decades to perfect. Care Dimensions is grateful to Ken for the donation of this beautiful painting and for his continued support of our mission.
Beverly Seaman's Sculpture - Romeo
​Every Juliet will want this handsome sculpture of Romeo the rooster to add whimsy to their home or garden.
VIP Hamilton Broadway Experience
Raise your glass to freedom in NYC for 2 nights at the Peninsula Hotel, 2 orchestra tickets to Hamilton, brunch or dinner with 2 cast members, and meet and greet cast passes.
Barefoot Luxury in the Heart of the Indian Ocean
Escape like royalty to a stunning Indian Ocean oasis in Praslin, Seychelles
Rock Out at Music's Biggest Night at the Grammy Awards
2 nights at the Omni Hotel in LA, 2 tickets to the Grammys and official Grammys' after-party
Host Committee
This year's special event is hosted by our Board of Directors: Pamela Lawrence, Chair; Jane Alpers, Vice Chair; Kevin Bottomley, Treasurer; Peter Sherwood, Clerk; and Patricia Ahern, President.​ Directors: Charles Adams, Chuck Badavas, Janet Barnes, John Collins, Tom Ford, Timothy Liesching, Wanda McClain, Mary Coffey Moran, Nancy Palmer,  Kimberly Perryman, Joan Rosenthal, Ellen Smith, Allen Smith, Kevin Smith, Regina Villa, and Michael Werthheimer.
With appreciation to the following individuals for their gifts of time and talent in planning the 40th Anniversary Gala: Amy Berenson, Barbara Day, Dana Denault, Judy Jacobi, Brian and Nancy McCarthy, Suzanne Pirker, and Louise Sharp.
Join Us!
Buy your tickets online, by clicking this link.
There are many ways for you to participate in this great night through sponsorship and attending the event, please contact Amy Rein, special events manager at 978-750-9357 or email ARein@CareDimensions.org
Care Dimensions is a Non-Profit Organization
All fundraising proceeds support the Care Dimensions mission to provide comprehensive and compassionate support for children and adults with advanced illness, death and loss. As a 501(c)3 non-profit organization, all donations to Care Dimensions are fully deductible to the extent permitted by IRS guidelines. Our Federal Tax ID Number/EIN is 22-2873792.
Buy your tickets online and preview the Live Auction items!
---
Sign up for the 24th Annual Hospice Regatta Race
---
Please Contact Us
We are always happy to speak with you about ways to support our mission. Call or email me anytime.
Amy Rein, Special Events Manager
978-750-9357
​ARein@CareDimensions.org