Camp Stepping Stones 2021 has reached the maximum capacity for registered campers. If ou'd like to be added to our waitlist, please complete this registration form:
Camp Stepping Stones is for children aged 6 to 18 and their families who have experienced the death of someone important, a space for parents/caregivers and kids to connect with other grieving families, to honor and remember those who have died, and have some fun.
With COVID safety precautions in mind, Camp Stepping Stones will be mostly virtual with weeklong programming and the option to participate in the in-person, outdoor family activity at the Glen Urquhart School campus in Beverly, Mass.
PROGRAM
July 17: Families have the option to meet Camp staff, participate in the in-person family activity, and pick up their supplies for the week. We will mail supplies to those families who do not attend in person.*
July 19 to 22: Virtual Programming via Zoom
Monday through Thursday: Children and teens tune in from 5 to 6:30 p.m. for age-appropriate group activities designed just for them.
Tuesday and Thursday: Adults and caregivers can access programming intended to support and educate, 8 to 9 p.m.

REGISTRATION
Registration is required, open April 1. Camp Stepping Stones is free for all participants, limited to residents of Massachusetts.
*Safety measures will be communicated to families prior to arrival.*
Email Camp@CareDimensions.org to be added to our contact list and we will send you information about Virtual Camp Stepping Stones 2021 and other children's grief programming opportunities.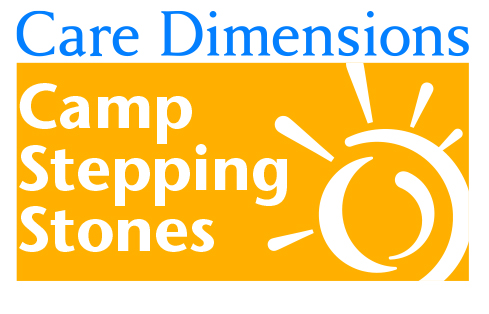 Camp Photos from Past Years

To see more photos, view this photo album.
---
National Alliance for Grieving Children (NAGC)
In 2018, Care Dimensions joined NAGC - a nationwide network comprised of professionals, institutions and volunteers who promote best practices, educational programming and critical resources to facilitate the mental, emotional and physical health of grieving children and their families.