Surrounding Families with Care and Support

Childhood is precious, no matter how long it may be. At Care Dimensions, we cherish our youngest patients – infants, children and adolescents living with life-threatening illnesses – and surround them with expert medical care and nurturing support.
Our specialized pediatric team, who are supported by pediatric hospice and palliative care physicians from Boston Children's Hospital, provides family-centered services at home and in the community (click here to meet the team). We offer 24/7 support so that children and caregivers can focus on what's most important – living every day to the fullest and enjoying their time together.
Multidimensional Care
We have an open access philosophy that allows pediatric patients to continue receiving curative treatments while enrolled in hospice care, with an additional focus on relieving symptoms and managing pain. Families also can continue to receive block nursing and home health assistance from other providers.
Each child receives an individualized care plan reflecting the medical, nursing, psychosocial and spiritual needs of the patient and family. Our services include:
Physician and nurse visits at home or in the hospital
24/7 support for questions and nursing visits
Home delivery of medications and equipment
Coordination with the child's physician and other health care providers
Kaplan House or the Care Dimensions Hospice House for respite care or acute symptom management. Both houses have specialized pediatric suites available. Family members can stay overnight and visitors are welcome any time
Guidance in navigating community resources
Child life specialist to help with expressing emotions
Emotional and spiritual support
Caregiver education
Complementary and expressive therapies for comfort and relaxation
Download our Pediatric Hospice brochure.
Peri-Natal Program
For parents who will give birth to an infant with a life-limiting condition, our peri-natal program offers a bridge from pregnancy to parenthood to bereavement. We partner with the family and their medical team, and develop a care plan that addresses the family's goals during pregnancy and delivery and following birth. Our pediatric team can transition care to the home, or plan arrangements and memorial services. Grief support is provided to parents and siblings.
Our Pediatric Team
Care Dimensions helps patients and caregivers communicate needs, navigate the healthcare system and plan for the future. Our interdisciplinary team brings together the skills and experience of:
Board-certified pediatric palliative care specialists from Boston Children's Hospital who serve as medical directors
Pediatric nurse practitioner who coordinates care with the child's primary pediatrician and specialists, and provides clinical care and symptom management
Specially trained pediatric nurse case manager who manages symptoms and pain
Hospice aide who assists with daily care
Certified child life specialist who helps the child and siblings express emotions through activities
Complementary or expressive therapist who engages the child in art and music
Social worker who helps patients and families cope with emotional and practical issues
Chaplain who offers non-denominational spiritual support
Grief counselor who helps families prepare for death and cope with grief
Trained volunteer who provides companionship and caregiver relief
Quality and Experience
Since 1978, Care Dimensions has provided comprehensive and compassionate care for individuals and families dealing with life-threatening illnesses. As the non-profit leader in advanced illness care, we offer services in more than 95 communities in Eastern Massachusetts.
Refer a Patient
It is never too soon to learn about our pediatric hospice care and palliative care programs. Anyone can make a referral. Simply call our Referral Center at 888-283-1722 to ask questions or schedule a consultation or fill out our secure online referral form.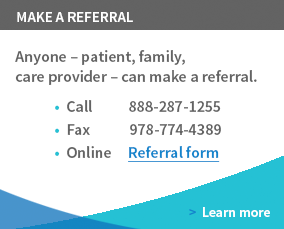 Child Life Specialist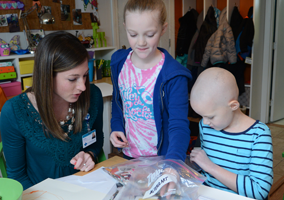 Our certified child life specialist provides support to our pediatric patients receiving hospice and palliative care and their siblings. Using age-appropriate activities including books, games, and arts and crafts, the child life specialist helps children talk about their feelings and fears in a safe environment and gives them strategies for coping with their grief and emotions.
Community Support
Thank you to the Cummings Foundation for its support of our pediatric program.