Combining the Comfort of Home with the Benefits of Hospital-Level Medical Care

Sometimes situations arise that make it difficult for adults and children receiving hospice care to be cared for at home. The award-winning Care Dimensions Hospice House offers an alternative to hospitalization for patients who require specialized care for acute pain and symptom management.
Located minutes away from Routes I-95 and 128 on 12 wooded acres in Lincoln on the Waltham town line (directions), the Care Dimensions Hospice House is a warm, homelike setting where patients receive hospital-level medical care, comfort and support. Private suites overlook the Cambridge Reservoir and landscaped gardens, and comfortable common areas include welcoming kitchen and dining areas, family rooms, children's play areas, and a chapel. Friends and family are welcome any time.
To learn more or to schedule a tour of the Care Dimensions Hospice House, please call our Referral Center at 888-287-1255.
Then Harry Met Kathryn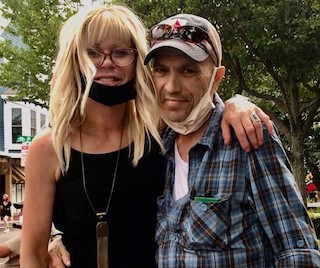 Harry decided to stop his chemotherapy in 2020 for a better quality of life, so Kathryn turned to the Care Dimensions hospice team for expert help at home. To better manage his symptoms during two health crises, Harry was transferred to the Care Dimensions Hospice House in Lincoln. "Because of the wonderful care from the hospice team, Harry died with dignity with his loved ones by his side," Kathryn said.
Take a Video Tour of the Care Dimensions Hospice House
A Home Away From Home
The Care Dimensions Hospice House features many of the same attributes that have made Kaplan House such a refuge for patients and families, including:
18 tastefully decorated home-like private suites with wheelchair-accessible bathrooms; two rooms can be equipped for pediatric patients
10 suites have private patios overlooking landscaped gardens, and patient beds can be wheeled outside.
8 suites have a built-in window seat with comfy cushions and pillows and overlooking landscaped gardens.
Considerable space to accomodate a reclining chair/rocker, table and chairs, and a comfortable couch that converts to a twin-sized bed allowing loved ones to stay overnight
In-room mini-refrigerator, HD television with cable and WiFi internet access
A warm, welcoming atmosphere with kitchens and dining spaces, living rooms, chapel and contemplation garden, children's playrooms with toys and games, meeting rooms and counseling areas
A serene, tranquil environment with lovely gardens, pathways and views of the Cambridge Reservoir
Easy access, centrally located close to I-95/Route 128
Levels of Care
The Care Dimensions Hospice House admits patients from home or upon discharge from the hospital. We provide different levels of care:
Inpatient/acute care for complex pain and symptom management
Respite care to relieve caregivers, based on availability
Short-term residential care, based on availability and requires a room and board charge
Making Yourself at Home
Visitors are welcome at any time. Care Dimensions affirms the equal visitation rights to the Care Dimensions Hospice House for all patients and visitors without regard to their race, color, religion, gender identity, sexual orientation, national origin, age, disability, veteran status, marital status, or any other legally protected status.

Download a copy of our Patient and Family Guide to learn more and make yourself feel at home at the Care Dimensions Hospice House.
Our Care Dimensions Hospice House Team
Our hospice team partners with patients and caregivers to develop customized plans that manage illness and honor personal needs and goals. Our interdisciplinary team brings together the skills and experience of:
Board certified physicians specializing in hospice care coordinating care with primary physician and specialists
Specially trained nurses manage symptoms and pain
Hospice aides assist with daily care and housekeeping
Social workers help patients and families cope with emotional and practical issues
Chaplains offer non-denominational spiritual support
Trained volunteers provide companionship and help make visitors comfortable
Bereavement counselors help families prepare for death and cope with grief
Supporting the Care Dimensions Hospice House
To learn more about how you can financially support the new Care Dimensions Hospice House, please contact our Philanthropy Department at 978-223-9786.
To learn about volunteering at the new house, please contact our Volunteer Department at 781-373-6574 or apply online.
To apply for jobs, please view our open positions or keep updated on current job opportunities by clicking here to sign up for our careers newsletter.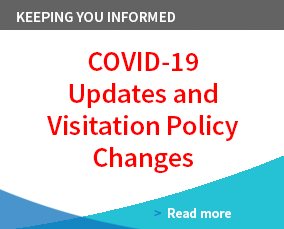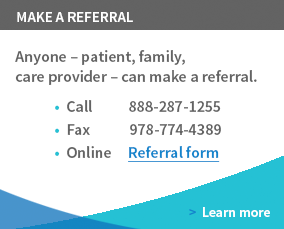 Care Dimensions Hospice House
888-283-1722
​125 Winter Street, Lincoln, MA 01773
Directions:
• Rte 95/128, take Exit 27 B
• Follow signs to merge onto Winter Street
• Continue for approximately 1.5 miles
• Watch for the entrance for Bay Colony office park (1000 Winter Street)
• Take the NEXT driveway on the left for 125 Winter Street. The hospice house will be visible on the hill above the driveway.
GPS note:
Some GPS systems have pinned the location for 125 Winter Street about 300 feet beyond our driveway, past where Winter Street becomes one way into Lincoln. You will not be able to turn around and will need to continue through the neighborhood until you reach Trapello Road, where you will need to take a right and then get back on Rte. 95/128 South for one exit to 27 B so you can come around again.
We have reported the issue to all the GPS software providers but it will take time to correct and for people to download new maps.