Body, Mind and Spirit

Hospice focuses on caring for the "whole person" – body, mind and spirit. At Care Dimensions, we integrate mind-body complementary therapies as an essential feature of total hospice care. Working in harmony with traditional medical and psycho-social services, these non-invasive, holistic practices help ease tension, reduce anxiety and improve overall comfort for patients. Our patients tell us they experience a sense of peace and well-being after receiving complementary therapy.
Complementary therapies are provided by staff and volunteers, and even animals, in the case of our multiple therapy dogs.
Therapies include:
Art therapy—using imagery, drawing, painting and other visual arts to foster self expression and relaxation
Massage—gentle massage provided by our licensed massage therapists can provide relief to sore muscles and reduce tension
Music therapy—using live or recorded music to promote relaxation, stress reduction and feelings of joy
Reiki—a gentle hands-on relaxation technique to reduce stress and promote a feeling of well-being
Pet therapy—visits with therapy dogs increases relaxation and triggers happy memories
Where You Need Us to Be
Complementary therapies are provided wherever patients live:
Therapy Dog Brings Joy to Patients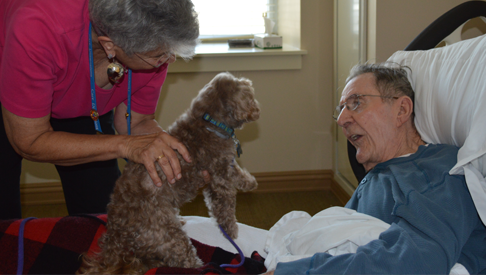 Volunteer Cynthia Turover and her pet therapy dog Louie make the day a little brighter when for patients.
Music Therapy Helps Patients Connect and Express Themselves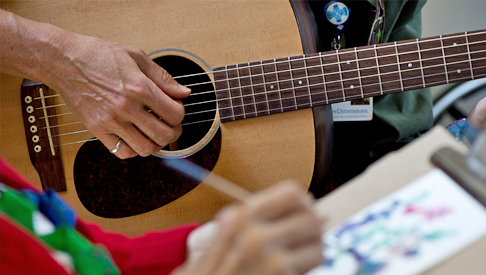 Surrounded by the artwork she created and collected, Marjorie (Pat) Lawrence, 94, was still enamored with the arts, especially music, until her death. Her visits with Care Dimensions' music therapist Li Kynvi became a focal point for Pat.