Caring for Your Family Like You're a Part of Ours
Care Dimensions helps patients and their families make the most out of every day. Our hospice care program provides expert medical care and innovative pain and symptom management to adults and children living with life-limiting illnesses, mixed with compassion and gentleness that brings comfort and peace.
Our professional hospice team considers every medical, emotional and spiritual need. We serve as a source of strength for patients and their loved ones—a valued 24/7 resource, supporting them every step of the way.
At Care Dimensions, we understand every nuance of hospice care—we've been the region's hospice care leader for more than 40 years. We know that coping with an advanced illness is challenging for patients and caregivers. Our team approach makes the experience easier by surrounding families with medical expertise and support—wherever patients live.
To learn more about when to start the conversation about hospice, the difference between hospice and palliative care, and other frequently asked questions, you may want to review our "Where do I start?" section.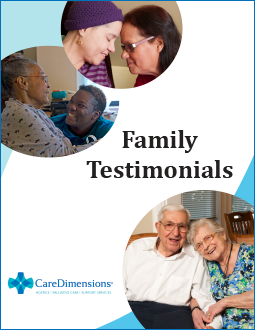 Grateful Family & Friends Testimonials
Every day we hear about the many ways Care Dimensions team members have touched the lives of our patients and their loved ones. Click here to read some recent letters we've received about our expert and compassionate care. If you would like to share a testimonial about your experience with Care Dimensions, please email [email protected].
Multidimensional Care
Care Dimensions offers a continuum of hospice care through all stages of advanced illness:
Medical care for any diagnosis
Specialized programs:
Medication, equipment and service coordination
24/7 support
Pain and symptom management
Emotional and spiritual support
Caregiver education
Where You Need Us to Be
When it is time for hospice care, Care Dimensions travels to wherever you need us to be. We structure personalized and practical programs that help patients:
Our Hospice Care Team
Care Dimensions has a highly-trained staff dedicated to making a difference in the lives of our patients. Our hospice team partners with patients and caregivers to develop customized plans that manage illness and honor personal needs and goals. With proper pain control and symptom management, we help patients be as independent as possible. We teach caregivers how to provide daily care for their loved ones and what to expect as illness progresses. With Care Dimensions by your side, you will never feel alone.
Our interdisciplinary team brings together the skills and experience of:
Board certified physician specializing in hospice care coordinates care with primary physician and specialists
Specially trained nurse manages symptoms and pain and ensures all needs are met
Hospice aide assists with daily care and housekeeping
Social worker helps patients and families cope with emotional and practical issues
Chaplain offers non-denominational spiritual support
Complementary therapist relieves stress through music, art, massage and more
Trained volunteer provides companionship and help with errands
Bereavement counselor helps families prepare for death and cope with grief
Quality and Experience
Since 1978, Care Dimensions has provided comprehensive and compassionate care for individuals and families dealing with life-threatening illnesses. As the non-profit leader in advanced illness care, we offer services in more than 100 communities in Massachusetts. Our services are covered by Medicare, Medicaid and most insurance plans, with generous support from the community.
Jack Loved Living Life to its Fullest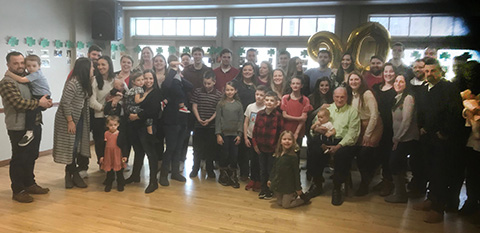 In the fall of 2020, during the COVID-19 pandemic, Jack, 91, was in the hospital being treated for complications from advanced heart and kidney conditions when his family decided to bring their dad home on hospice with Care Dimensions. Jack loved living life to the fullest, and hospice gave him eight more great weeks living it with family, the people who mattered the most to him.
Cardiac Program Support Enables Patient to Fulfill Dream of Family Reunion in Egypt
Close telemonitoring of her health and quick adjustments of her medications helped keep Clair's heart health in check while allowing her to remain home and out of the hospital. And plan her reunion trip to Egypt.
Care Dimensions Hospice Team Links Mother and Daughter During COVID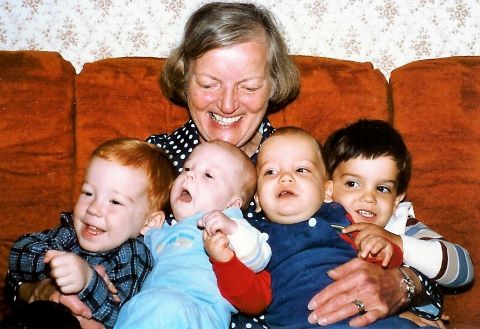 When COVID-19 pandemic precautions and restrictions prevented her from visiting her mom, Bertha, in her memory care unit, the Care Dimensions hospice team provided the communications lifeline Dale needed, serving as her "eyes and ears."
Then Harry Met Kathryn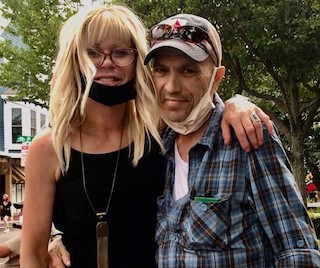 Harry decided to stop his chemotherapy in 2020 for a better quality of life, so Kathryn turned to the Care Dimensions hospice team for expert help at home. To better manage his symptoms during two health crises, Harry was transferred to the Care Dimensions Hospice House in Lincoln. "Because of the wonderful care from the hospice team, Harry died with dignity with his loved ones by his side," Kathryn said.
Care Dimensions Helps Young Father Meet End-of-Life Goals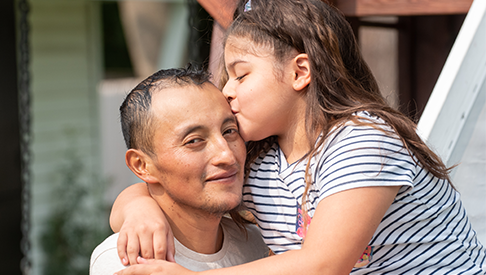 Audias Escobar moved from Guatelmala to Boston to pursue his American Dream in 2005. With his health rapidly declining, he wanted to secure a bright future for his daughter. His Care Dimensions hospice team helped him make arrangements for his daughter's continued care and for a final trip home.
Watch Care Dimensions' cable TV show
Timing is Everything
to learn more about living with an advanced illness and the benefits of hospice and palliative care.
Crucial Support Eases Stress on Caregivers
Care Dimensions helped Lynn resident Linda Cloran's experience with hospice for her husband more bearable.
Engaging Hospice Early Enables Patient to Fulfill Wish to Die at Home
Dana-Farber oncologist/researcher Barrett Rollins, MD, explains why hospice care is so vital for patients with advanced disease based on his personal experience caring for his wife, Jane Weeks, MD.
Care Dimensions Hospice House Video Tour
The Care Dimensions Hospice House, located in Lincoln on the Waltham town line, is a gracious and private home-like setting for patients who need hospital-level care for complex pain and symptom management. To learn more, call our Referral Center at 888-287-1255.
---

Want to learn more about caring for your loved one at home? Download a copy of Caring with Confidence: The Patient and Family Guide to Hospice Care.