Kaplan Family Hospice House Offers Alternative to Hospitalization

Home Away from Home
Sometimes situations arise that make it difficult for adults and children receiving hospice care to be cared for at home. The Kaplan Family Hospice House offers an alternative to hospitalization for such patients.
Located off Route 128 in a quiet residential neighborhood in Danvers (directions), Kaplan House is a warm, homelike setting where patients receive hospital-level medical care, comfort and support. Private suites overlook landscaped gardens and comfortable common areas include a welcoming kitchen, family rooms, children's play areas, a chapel and library. Friends and family are welcome any time.
Round-the-Clock Care
Patient care is managed by a team of board-certified physicians, nurses, hospice aides, social workers and chaplains—all with extensive end-of-life experience.
Take a Video Tour of Kaplan House
Care Dimensions Helps Young Father Meet End-of-Life Goals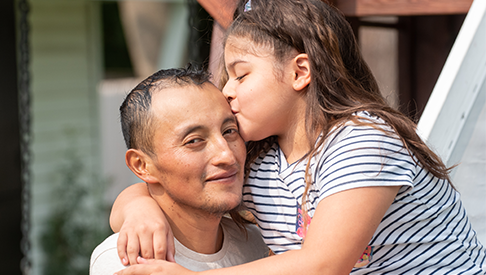 Audias Escobar moved from Guatelmala to Boston to pursue his American Dream in 2005. With his health rapidly declining, he wanted to secure a bright future for his daughter. His Care Dimensions hospice team helped him make arrangements for his daughter's continued care and for a final trip home.
Family of North Shore Surgeon Finds Comfort at Kaplan House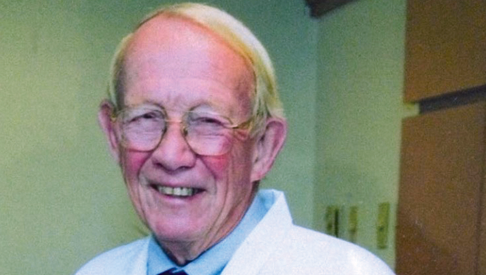 When Dr. Mayo Johnson's pain and symptoms were too much to manage at home, his family turned to the clinical team at Kaplan House to provide expert care and a peaceful, comfortable environment for their whole family.
Kaplan House Features
Kaplan House, the first freestanding hospice facility in Massachusetts licensed to provide hospital-level care, offers:
Private suites with wheelchair-accessible bathrooms
Private patios overlooking landscaped gardens and wetlands. Patient beds can be wheeled outside.
Fold-out couch for an overnight guest
Living rooms and comfortable common spaces
Children's playroom
In-room TV with cable and WiFi internet access
Country kitchen and dining area
Chapel
Library
Outdoor gardens
To view a photo album of the Kaplan House, click here.
Levels of Care
Kaplan House admits patients from home or upon discharge from the hospital. We provide different levels of care:
Inpatient/acute care for complex pain and symptom management
Respite care to relieve caregivers, based on availability
Short-term residential care, based on availability and requires a room and board charge
Making Yourself at Home
Visitors are welcome at any time. Care Dimensions affirms the equal visitation rights to the Kaplan House for all patients and visitors without regard to their race, color, religion, gender identity, sexual orientation, national origin, age, disability, veteran status, marital status, or any other legally protected status.

Download a copy of our Patient and Family Guide to learn more and make yourself feel at home at the Kaplan Family Hospice House.
Our Kaplan House Team
Our hospice team partners with patients and caregivers to develop customized plans that manage illness and honor personal needs and goals. Our interdisciplinary team brings together the skills and experience of:
Board certified physician specializing in hospice care coordinates care with primary physician and specialists
Specially trained nurse manages symptoms and pain
Hospice aide assists with daily care and housekeeping
Social worker helps patients and families cope with emotional and practical issues
Chaplain offers non-denominational spiritual support
Trained volunteer provides companionship and help with errands
Bereavement counselor helps families prepare for death and cope with grief
Quality and Experience
Since 1978, Care Dimensions has provided comprehensive and compassionate care for individuals and families dealing with life-threatening illnesses. As the non-profit leader in advanced illness care, we offer services in more than 95 communities in Eastern Massachusetts. Our services are covered by Medicare, Medicaid and most insurance plans, with generous support from the community.

Kaplan Family Hospice House
Photo Album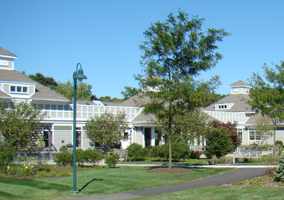 To view an album of Kaplan House photos, click here.
A Mother's Final Wish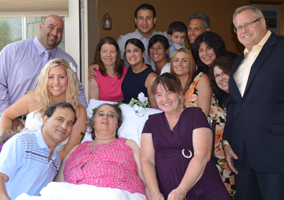 Elaine Saad's final wish was to see her son get married. Kaplan House staff arranged for a wedding blessing to take place on the patio outside her room and wheeled her bed out so she could join in. Watch the video to learn more about Elaine's story.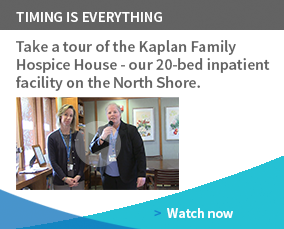 Kaplan Family Hospice House
888-283-1722
78 Liberty Street, Danvers, MA 01923