2021 Community Webinar Series
Care Dimensions is a non-profit organization and the largest provider of hospice, palliative care and support services in MA. With over 40 years of experience in serious illness/end-of-life care, Care Dimensions has successfully cared for patients and families as they progress along the continuum of care. Our commitment is to share our knowledge and expertise with the communities we serve through continued educational offerings.
Please join us for our free community webinar series which offers some of our most popular programs. Join us from your home, desk or on the go!
You must register for these webinars in advance by clicking on the name of the Webinar below. CEUs are not provided for these community webinars and other programs. If you are looking for CEUs, please see our Professional Webinar Offerings.
Tuesday, September 14, 2021,
12:00 - 1:00 p.m.
Grief and Loss
Explores various types of loss, how people grieve, and ways to support those who are grieving.
Thursday, November 4, 2021,
12:00 - 1:00 p.m.
Coping with the Holidays after a Loss
Discusses the impact the holidays have on grief, practical suggestions for coping and ways the holidays can heal.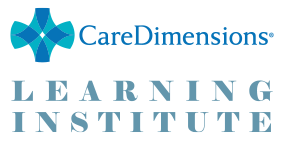 Care Dimensions Learning Institute is committed to providing opportunities that strengthen comprehensive learning around serious illness and end of life care that are responsive to the needs of the professionals, community, patients and families we serve.