Living Forever, Not an Option

Care Dimensions is proud to launch our new podcast Living Forever, Not an Option. With their vast knowledge about hospice and palliative care, hosts Mary Crowe, LICSW, ACHP-SW, Director of Professional and Community Education, and Lyn Skarmeas, Vice President of Business Development, discuss various topics to dispel the myths surrounding hospice, palliative care and end of life. Their goal is to empower individuals with advanced illness to access hospice and palliative care services sooner, thereby providing more opportunity to improve their quality of life.
Episode 1 – Understanding Hospice and Palliative Care
Hosts Mary and Lyn explain the differences between hospice and palliative care, the philosophy and history of hospice, and dispel some of the myths surrounding hospice care because "living forever is not an option."
---
Meet the hosts
Mary Crowe, LICSW, ACHP-SW
Over the past 13 years, Mary has led the Care Dimensions' professional and community educational outreach, coordinating and delivering hundreds of programs each year for healthcare professionals, families and community groups.

She holds a Master's degree in Social Work from Boston College Graduate School of Social Work, and post graduate certificates in gerontology and alcohol counseling. Mary has worked as a medical social worker for over 25 years in acute care, rehabilitation, skilled nursing and adult day health settings caring for individuals and families with advanced illness or at end of life.

Lyn Skarmeas
With over 25 years of experience in business development and marketing for hospice and home health care organizations, Lyn has excelled at developing and managing cohesive and motived teams that focus on achieving results consistent with the overall growth, success and mission of the organizations as well as identifying opportunities through new programs and services, and developing strong relationships with the local medical community and referral facilities. She is a seasoned leader and proven manager with significant expertise in strategic planning, marketing, business development, budgeting and resource management. In her role at Care Dimensions she is responsible for leading all major activities associated with the growth of the organization as well as strategic leadership and direction for new business offerings and expansion. Lyn is a graduate of Providence College.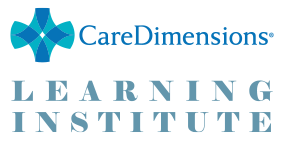 Care Dimensions Learning Institute is committed to providing opportunities that strengthen comprehensive learning around serious illness and end of life care that are responsive to the needs of the professionals, community, patients and families we serve.