Relieving Pain, Symptoms and Stress
People who struggle with pain and symptoms brought on by advanced illness, but who are not ready or don't qualify for hospice care, often benefit from palliative care. At Care Dimensions, our palliative care specialists bring comfort and relief at any time during a person's advanced illness—from diagnosis through treatment.
We work closely with patients and caregivers to clarify goals and help them undertand what to expect as illness progresses. Our focus is to improve everyday life, restoring independence, comfort and joy.
Multidimensional Care
Our palliative care specialists offer a continuum of care, including the following:
Diagnosis and prognosis discussions, especially when prognosis may be unclear
Discussions relating to your goals of care
Advanced care planning assistance
Complex pain and symptom management and evaluation of current medications
Care coordination with patient's doctor and specialists
Consultations in your home
Help with treatment decisions based on realistic goals
Spiritual and emotional support
Transition to hospice care when needed
Caregiver education
A Layer of Assistance
Palliative care offers a much-needed layer of assistance to patients and families, reducing hospitalizations and emergency room visits. We help patients better manage their symptoms that affect quality of life, including:
Pain
Fatigue
Shortness of breath
Sleeping problems
Eating difficulties
Nausea
Stress
Care at Any Age and Stage
Palliative care enhances daily life for adults with chronic or advanced diseases, including:
Cancer (any stage)
Dementia/Alzheimer's disease
Respiratory disease (COPD, emphysema)
Cardiac disease, congestive heart failure, stroke
Kidney or liver failure
Multiple Sclerosis
Our Palliative Care Team
Care Dimensions' palliative care team includes physicians, nurse practitioners and social workers. We work with each patient's primary care physician and specialists to deliver seamless care.
Our interdisciplinary team brings together the skills and experience of:
Board certified physician specializing in palliative care coordinates care with primary physician and specialists
Nurse practitioner manages symptoms and pain
Social worker helps patients and families cope with emotional and practical issues
Where You Need Us to Be
Care Dimensions travels wherever you need us to be. We structure personalized and practical palliative care programs that help patients:
In hospitals
At home
In assisted living and skilled nursing facilities
Payment for Palliative Care
All or part of a palliative care consultation is covered by Medicare, Medicaid and most insurance plans.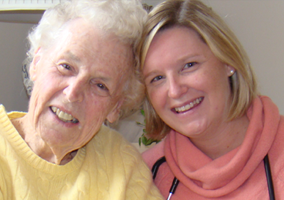 After three visits from her Care Dimensions Palliative Care nurse, Ginny noticed remarkable changes. "My pain just stopped being a barrier to my quality of life," she said. Read more of Ginny's story.