Why Care Dimensions?

Choosing hospice care is about choosing comfort care and quality of life. It is not surrendering. It is not giving up. At Care Dimensions, we want every day to be a good day and we have the skills, experience and heart to make that happen. Our focus is on quality patient care that embraces the whole person: body, mind and spirit.
Massachusetts' Hospice Leader
A pioneer in the nation's hospice movement, Care Dimensions began as Hospice of the North Shore in 1978. What started as a small volunteer program has grown to become the largest, most highly skilled hospice in Massachusetts — a non-profit provider currently serving more than 7,000 patients each year. We've championed the cause of hospice since the beginning and continue as end-of-life care advocates – providing unsurpassed patient care while insisting on the highest quality.
Hospice Care or Palliative Care
Care Dimensions will guide you and your caregivers to the best option to meet your needs: hospice care or palliative care. Hospice care is focused on controlling pain and managing symptoms, rather than attempting to cure. Palliative care is for patients who are not yet eligible for hospice care but have serious progressive illness or conditions causing symptoms that are difficult to manage.
The focus of both hospice care and palliative care is to surround patients and families with medical, emotional and spiritual support. Our professional teams provide a constant level of assistance — teaching families to care for seriously ill loved ones, advocating for resources and information, and offering support during and after the experience.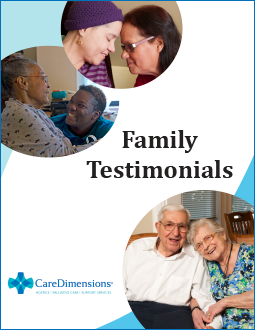 Grateful Family & Friends Testimonials
Every day we hear about the many ways Care Dimensions team members have touched the lives of our patients and their loved ones. Click here to read some recent letters we've received about our expert and compassionate care. If you would like to share a testimonial about your experience with Care Dimensions, please email Testimonial@CareDimensions.org.
Where You Need Us to Be
Care Dimensions travels wherever our patients need us to be, in more than 100 communities throughout Massachusetts. We structure personalized and practical programs that help patients:
Engaging Hospice Early Enables Patient to Fulfill Wish to Die at Home
Dana-Farber oncologist/researcher Barrett Rollins, MD, explains why hospice care is so vital for patients with advanced disease based on his personal experience caring for his wife, Jane Weeks, MD.
Who Pays for Hospice
Care Dimensions was instrumental in securing passage of Massachusetts legislation in 1995 that mandates hospice as a covered benefit by Medicare, Medicaid, health maintenance organizations and other private insurance plans. These insurance carriers provide full coverage for hospice services, including medication and equipment. As a not-for-profit organization, Care Dimensions receives generous support from the community, enabling us to care for all patients, regardless of ability to pay.
Levels of Hospice Care
Care Dimensions provides all levels of hospice care throughout all stages of advanced illness:
Routine Care. Hospice services provided by an interdisciplinary team include nursing care, pain and symptom management, spiritual and emotional support, caregiver education, and volunteer companions provided in the comfort of your home, whether it is a private residence, assisted living community, or skilled nursing home.
Respite Care at our Kaplan Family Hospice House or Care Dimensions Hospice House gives family caregivers a break from the demands of caring for their loved one; based on availability.
Inpatient Care. Short-term, 24-hour residential care for clinically eligible patients at the Kaplan Family Hospice House or Care Dimensions Hospice House to manage complex pain and symptoms that cannot be handled at home.