What Type of Care is Right for You or Your Loved One?
Palliative Care and Hospice Care both strive to provide comfort, relieve pain and improve quality of life.
| | |
| --- | --- |
| Palliative care | Hospice care |
| For anyone with a serious or chronic illness. Eligibility not based on life expectancy | For anyone who has a life-limiting condition and a life expectancy of six months or less |
| Can be provided in addition to treatment that is intended to cure the illness or prolong life | Available to people who are no longer seeking curative treatment and whose focus is comfort |
| Helps patient live as independently as possible; manage complex symptoms; prevent or treat pain; restore comfort; reduce stress. Helps to clarify goals of care together with family and medical team | Helps patient and family meet their unique end-of-life goals; manage complex physical symptoms and improve comfort; address emotional and spiritual concerns; educate patient and family about what to expect at the end of life; provide grief support for family |
| Visits provided at home or assisted living community, in a hospital, skilled nursing facility or at an outpatient clinic | Care provided where the patient is located—in their own home or assisted living community, a skilled nursing facility, hospital or at the Kaplan Family Hospice House or Care Dimensions Hospice House |
| Care team may include physician, nurse practitioner, and social worker | Interdisciplinary care team includes hospice physician, nurse case manager, hospice aide, social workers, chaplain, bereavement counselor and trained volunteers |
| Coverage for care by Medicare B, Medicaid and most private insurance | Covered for most patients by Medicare A, Medicaid and most private insurance. Free care funds may be available for those who qualify based on financial need |
Call Us Today
Unsure which service is right for you or your loved one? Our Referral Center staff would be happy to discuss the differences and help you decide which option is best for you. It is never too soon to learn about our services and anyone can make a request services. Simply call our Referral Center at 888-283-1722 to ask questions or schedule a consultation or fill out our secure online referral form.
Care Dimensions Helps Young Father Meet End-of-Life Goals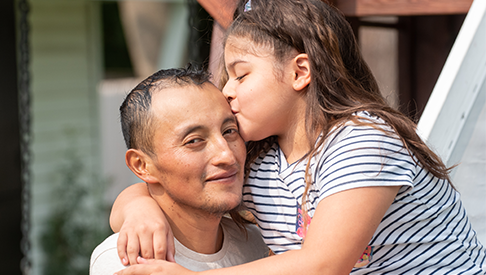 Audias Escobar moved from Guatelmala to Boston to pursue his American Dream in 2005. With his health rapidly declining, he wanted to secure a bright future for his daughter. His Care Dimensions hospice team helped him make arrangements for his daughter's continued care and for a final trip home.