Where Do I Start?
When you or a loved one is diagnosed with a serious or advanced illness, figuring out the next steps or where to start can be overwhelming. You may also feel a mix of emotions that can compound the stress and confusion. But learning about your choices and options can help relieve anxiety for you and your family. Talking about your values and goals and determining what information and resources you and your family need can help provide a roadmap for making informed decisions about your plan of care. Read the following pages to learn more about having these important conversation with your family or physician.
Hospice or Palliative Care?
You may have heard the terms "hospice" or "palliative care" but are uncertain exactly what kind of care they provide and what the difference between them may be. Both types of care are focused on comfort and quality of life. Hospice is a team-oriented approach to expert medical care, pain and symptom management, and emotional and spiritual support. It's for people of all ages who have a life-limiting health condition and a life expectancy of six months or less, but there is no time limit for how long they may receive care. Hospice has a primary goal of providing comfort when a cure may no longer be possible. Palliative care is an extra layer of support that addresses your discomfort, symptoms and stress to help you feel better. This specialized care can be provided to anyone at any age at any time during a serious or chronic illness and is available while you are also receiving curative treatment.
When Is the Right Time to Call?
It's never too soon to learn more about your options. Hospice works best and is most beneficial when it is started early, so that the patient and family can receive the maximum amount of care and support. Below are a few questions that may indicate that it's time to consider hospice or palliative care:

Have you or your loved one...
Seen a progression of a serious illness?
Had repeat trips to the hospital?
Had increased episodes of pain?
Had several falls in the last six months?
Had significant, unexplained weight loss?
Started spending most of the day in a chair or bed?
Had shortness of breath or difficulty breathing?
Started to feel that treatment is becoming more of a burden than a benefit?
If you answered yes to two or more of these questions, hospice care could help you. Anyone—a patient, family member, friend, clergy or community member—can request an evaluation for hospice or palliative care services. Our Referral Center staff will ask a few questions, consult with the patient's physician, and then come to wherever the patient lives (private residence, skilled nursing facility, assisted living community, veterans home, etc.) to meet the patient and discuss options for care. Call 888-283-1722 to learn more or fill out our online request for services form.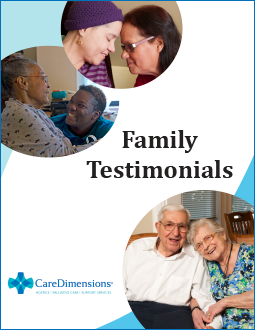 Grateful Family & Friends Testimonials
Every day we hear about the many ways Care Dimensions team members have touched the lives of our patients and their loved ones. Click here to read some recent letters we've received about our expert and compassionate care. If you would like to share a testimonial about your experience with Care Dimensions, please email Testimonial@CareDimensions.org.
Watch Care Dimensions' cable TV show
Timing is Everything
to learn more about living with an advanced illness and the benefits of hospice and palliative care.