News Releases
December 19, 2014

Care Dimensions and Regis College Receive Massachusetts Healthcare Workforce Transformation Fund Training Grant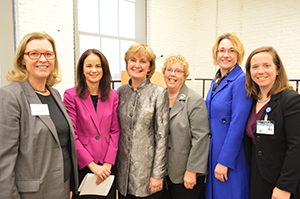 Pictured (l-r): Nancy Snyder, President & CEO, Commonwealth Corporation; MA Secretary of Labor and Workforce Development Rachel Kaprielian; Diane Stringer, President & CEO of Care Dimensions; Penelope Glynn, RN, PhD, Regis College Dean of the School of Nursing, Science and Health Professions; Shawna Erickson, Director of Institutional Support at Regis College, and Susan Lysaght Hurley, NP, PhD, Care Dimensions.

DANVERS, Mass. — Care Dimensions, formerly Hospice of the North Shore & Greater Boston, and Regis College were the recent recipients of a $249,000 Massachusetts Healthcare Workforce Transformation Fund Training Grant awarded as part of the Patrick Administration's efforts to encourage economic growth by supporting innovation in the Commonwealth's healthcare industry. The two organizations will work together to develop and implement two training initiatives: a nurse residency program and the creation of on-line learning modules for clinical staff. Both initiatives are aimed at enhancing healthcare staff engagement and retention with the ultimate goal being to enhance patient care.

Massachusetts Secretary of Labor and Workforce Development Rachel Kaprielian said, "These grants will help ensure health care providers succeed in implementing new models of service delivery and adapt to new payment structures. By providing resources to develop new and innovative training and education programs, Massachusetts will continue to solidify its place as a leader in health care modernization and advances."
"Hospice care requires specialized skills and experience that many nurses are not exposed to, which makes it challenging to recruit new staff," said Diane Stringer, RN, President and CEO of Care Dimensions. "In addition, with staff that operates 24/7 in the field, it's challenging to deliver ongoing clinical training to support their development. This training grant will allow us to introduce and mentor new nurses to hospice care and develop online training tools for clinical staff so they can access support wherever and whenever they need it."
Regis College Dean of the School of Nursing, Science and Health Professions Penelope Glynn, RN, PhD, said, "As the educators of the healthcare workforce of tomorrow, we find this is an exciting opportunity to use today's interactive teaching tools to reach current healthcare providers and for our team to learn how we can adapt our curriculum for the healthcare industry needs of the future, including sustaining quality care."
###
Care Dimensions is the most comprehensive, most diversified and largest provider of high-quality and compassionate care for adults and children with advanced illness serving over 90 communities in Massachusetts. Care Dimensions' unmatched depth and breadth of service enables individualized care for patients and their loved ones. Services include hospice, palliative care, chronic disease management, support and teaching programs. Founded in 1978 as Hospice of the North Shore, Care Dimensions has been caring for patients – in their homes, in long-term care and assisted living communities, in hospitals and at our Kaplan Family Hospice House – throughout all stages of advanced illness. Learn more at www.CareDimensions.org.
Regis College is a multifaceted Catholic university in greater Boston with 2100 undergraduate, graduate and doctoral students in the arts, sciences and health professions devoted to engage, serve and advance in a global community. With a strategic graduate focus on health care, Regis College was recently named a Center of Excellence in Nursing Education by the National League of Nursing for the second time. The College also provides a pre-school and a Life Long Learning Program (LLARC) for retired seniors. Visit Regis on the Web at www.regiscollege.edu.
Care Dimensions Hospice House Video Tour
The Care Dimensions Hospice House, located in Lincoln on the Waltham town line, is a gracious and private home-like setting for patients who need hospital-level care for complex pain and symptom management. To learn more, call our Referral Center at 888-287-1255.