In the News
June 6, 2017

Danvers boy receives personalized Monopoly game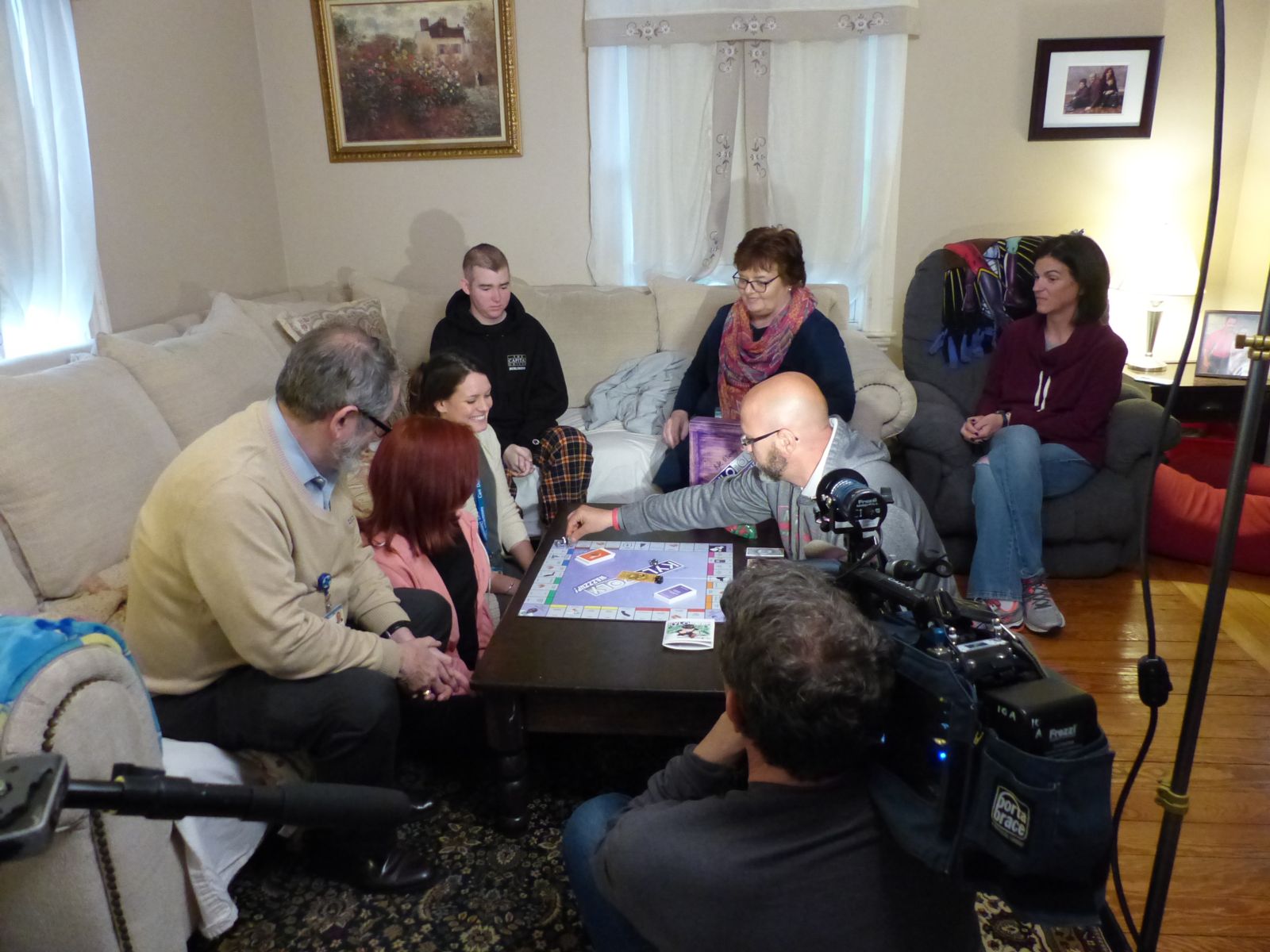 DANVERS — Kyle O'Grady's legacy has been captured on a personalized version of Monopoly, created especially for him by Rhode Island game maker Hasbro.
Kyle, who is 15, has an incurable form of brain cancer and is receiving hospice care. The Kylopoly game includes all the things he likes and some of what he doesn't.
The game, which the family recently received at their Maple Street home, has the same rules as Monopoly, only it's personalized for Kyle. Railroads have been replaced by his favorite states, like California, Florida and New York. Fortune cookies cards have replaced those of Community Chest and Chance. Properties include Mia and Papas, Our House, Starbucks and Woodman's in Essex.
A corner space called "Put On C Diff Precautions," refers to universal precautions taken in the hospital to keep an infection from spreading, something Kyle knows about all too well.
Kyle agreed it was cool to have his very own Monopoly game.
"It's like I'm on a whole new level," he joked.
His mother was touched.
"When I opened it and saw that even the instructions were personalized, I just started crying," said his mother, Abbie O'Grady. "They just went so far beyond what we thought they would do. It tells the story of everything that is important to Kyle, and everything that he has been through with treatment, and it puts a funny spin on it, which is how he's looked at it."
It's the legacy project his family and caregivers had been urging him to create, but he was reluctant to do. His family includes his dad, Brett Desrosier; sister, Morgan; and younger brothers Brady, 5, and Connor, 3.
Kyle was diagnosed in May 2014 with a rare childhood brain cancer called high-risk medulloblastoma. He was treated for it, but now it's come back in an untreatable form.
His mother is on leave from her job as a hospice nurse with Care Dimensions to spend time with her son, whose prognosis is "poor." He's not strong enough to go to Danvers High.
A team from Care Dimensions' pediatric hospice program has been providing care and support, and they helped Kyle come up with Kylopoly over the course of three months.
"It was a good goal for Kyle, and it kind of helped him health-wise to have a goal," said Patty Condon, Kyle's nurse and case manager.
"I don't really remember how we came up with the idea," Kyle said, "I just remember, I know I wanted to make a game. So we were just going through what kind of game we could make and we decided on making a Monopoly game, because I had so many little ideas."
They first made the game out of paper. Anne Williams, a spokeswoman for the agency, said a game company called Winning Moves Games, which is located in the same building as Care Dimensions, connected the agency with Hasbro. Winning Moves Games also makes classic versions of Monopoly.
"We went out to Hasbro and we kind of pitched them the idea and they said this would be awesome, we could totally do that," Kyle said.
Kyle also had a surprise performance recently from magician Anton the Great, aka Anton James Andresen, the official magician of Salem.
"It was really cool," Kyle said. "Some of the stuff was, how did you do that?"
"It certainly had a big impression on me being in his presence," Andresen said.